If you are way out the back of nowhere, a long way from civilization, there are few things so comforting as the sound of a diesel engine on tick-over; if you are in a car or truck that is. If you are on a motorcycle the probability that you will have the comfort of a diesel engine's reliability is small.
Diesel engines tend to be at their best when they are being used for big industrial uses such as in ships and boats, trucks, cars, and electricity generation. As the diesel engine gets smaller so the advantages tend to shrink also. Part of the problem of making a diesel small can be understood just by comparing the diesel compression ratio to that of a similar sized gasoline engine. A gasoline engine tends to have a compression ratio somewhere in the ball park of 8:1 up to about 10:1; a diesel engine tends to have a compression ratio of around 18:1 up to 20:1 or more.
That much higher compression ratio is needed to cause the fuel/air mix to ignite without the need for a spark plug but as you can readily imagine the crankshaft, con-rods, pistons and the engine's transmission all have to cope with not only that higher compression ratio but also the higher shock value of the power stroke precipitated by that compression ratio. This means that the engine needs to be more strongly constructed, and that the transmission also needs to be specially constructed because of the different forces that engine will impose on it. More strongly constructed means physically heavier, to achieve that extra strength is going to require more metal and more metal means more weight. So, if in a motorcycle we are trying to keep the weight down as much as possible why would anyone want to install a heavier diesel engine in one?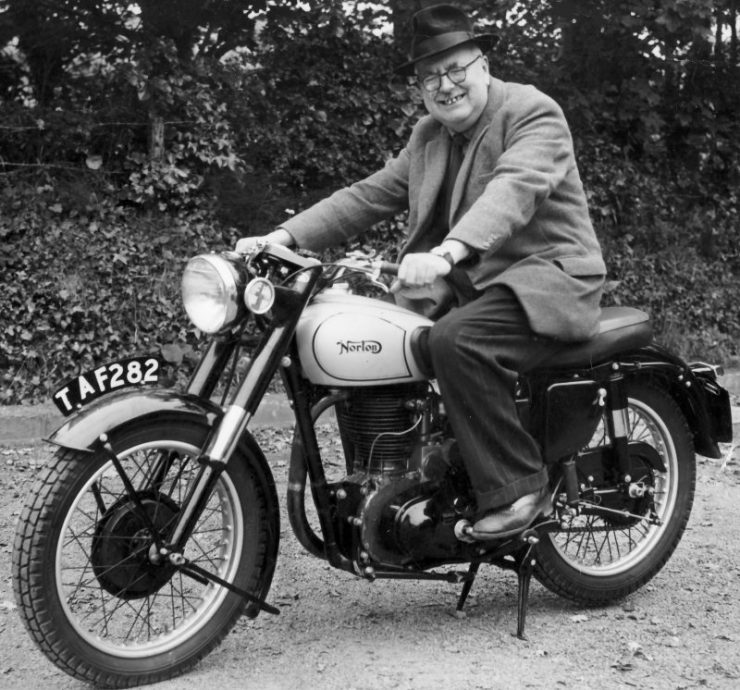 There are a few reasons why one would want a diesel engine in a motorcycle:
>>Need to use a lower grade fuel than gasoline, such as diesel distillate or aviation kerosene such as JP4, JP5 or JP8 etc.
>>Need for high fuel economy and the extended range it provides.
>>Need for high reliability and low service intervals.
Not everyone wants a motorcycle so they can go fast. Some just need a motorcycle to be reliable and to have a long range. This is true for people who are using motorcycles on agricultural properties, and for people who live in places where the fuel is of variable quality from low grade to poor. This is also true for the military where the need is for "one fuel to fuel them all…" be it for your aircraft, helicopters, trucks, Jeeps or motorcycles. It isn't absolutely necessary to use a diesel engine if you need to run on aviation kerosene. The old "Series" Land Rovers were made with engines that would run on "power kerosene" for example. But a modern diesel engine is a preferable alternative. It has been for these reasons that just a few diesel powered motorcycles have been made.
The first documented use of a diesel engine in a motorcycle was by Dutchman Jan Dopper who installed a Brons diesel engine into a bicycle he'd been given in 1904. The Brons engine produced a modest 2bhp at 700rpm. Jan Dopper improved the machine by creating a new frame of his own design and then in 1910 made a diesel tricycle. In post-war fifties Britain some prototype diesel bikes were made based on Nortons. The British used to quite enjoy their reputation for being eccentric and were not at all offended by the song "Mad Dogs and Englishmen Go Out in the Midday Sun". The first "mad Englishman" to build a diesel motorcycle was a gentleman named Tony Sidney from the coastal holiday town of Brighton. He created a 500cc aluminium single cylinder diesel engine with a cast iron head and fitted it into a Norton.
The use of aluminium helped keep the weight of the engine down although the engine was fitted with high tensile steel reinforcing rods from the crankshaft to the cylinder heads to ensure adequate structural strength. The engine produced 10-14bhp @ 4000rpm with a nice amount of torque and a top speed of 55mph. The bike was very capable climbing hills around Brighton but acceleration was lacking, the bike sort of "gained momentum" rather than really accelerating. Kick starting the bike was "possible" with the compression release lifting the valves, but on cold mornings the bike needed to be push started. Preferably by a car. The engine also had a large exposed flywheel which was rather hazardous to ones left ankle although quite convenient for setting up the timing. Only four of these prototypes were made.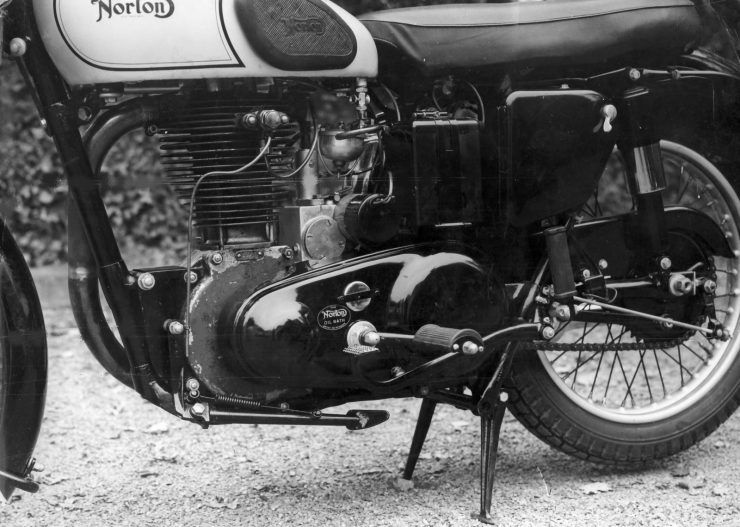 The next "mad Englishman" was Freeman Sanders who called a town called Newlyn, Cornwall his home. He also chose a Norton for his prototype and his engine produced a quite respectable 18.5hp @ 4500rpm giving the bike a top speed around 70mph and miserly fuel consumption of around 140mpg. (For those interested this bike was featured in "The Classic Motorcycle" magazine of September 1992). Sanders' bike was based on a 490cc Norton with the only modifications being to the cylinder head and barrel. To avoid the need for extensive modification of the engine's bottom end Sanders kept the compression ratio down to 11.8:1 but still managed to have a viable working diesel. Although his motorcycle did not get past the prototype stage Freeman Sanders went on to design engines for Lister. The first company to actually roll diesel motorcycles off a mass production line was Royal Enfield of India. Royal Enfield is said to be "Built like a gun, fast as a bullet". No doubt the Royal Enfield diesel was solidly "built like a gun" but with its 325cc diesel engine it was certainly no "bullet", not even a very low velocity one.
Back in 1992 a company called Sooraj Automobiles located in Saharanpur in Uttar Pradesh province of India began installing 325cc Greaves Lombardini diesel engines in stock Royal Enfield Bullet motorcycles. This bike was called the Taurus and was sold through the established Royal Enfield dealer network in India. Amongst the models of the Taurus was a bright yellow one with a novel crash guard aimed at agricultural and government use. The engine of the Taurus had an 18:1 compression ratio and produced 6.5hp @ 3600rpm with 11.1 lb/ft of torque. Claimed fuel mileage was 190mpg (US) at 25mph. As we said, a very low velocity "Bullet". Later in production a 436cc diesel Taurus was made which was called the Royal Enfield Lightning and which featured an electric starter. The manufacture of diesel Royal Enfields in India got people in the UK and Europe inspired and there have been quite a number of people making diesel conversions mostly of Royal Enfields.
Listing all of these goes beyond the capacity of this short history but includes the following as a non-definitive list:
Dieselwiesel, who make their DW406.
Brett's diesel custom rebuilds of Portland, USA.
Custom Royal Enfields built by Price Part Motorcycles.
Sommer Royal Enfield fitted with the Hatz 462cc 1B40 diesel engine. The engine produces a not so impressive 11hp, but makes up for it with 117mpg fuel economy and the ability to cruise at 60mph on the highway.Beckdorf Royal Enfield fitted with 440cc Italian Lombardini 15LD engine.
Horvath Royal Enfield fitted with Acme 500 EFI.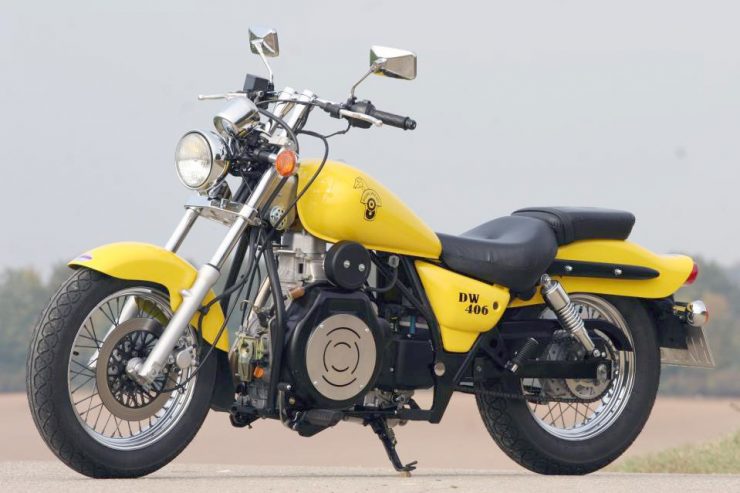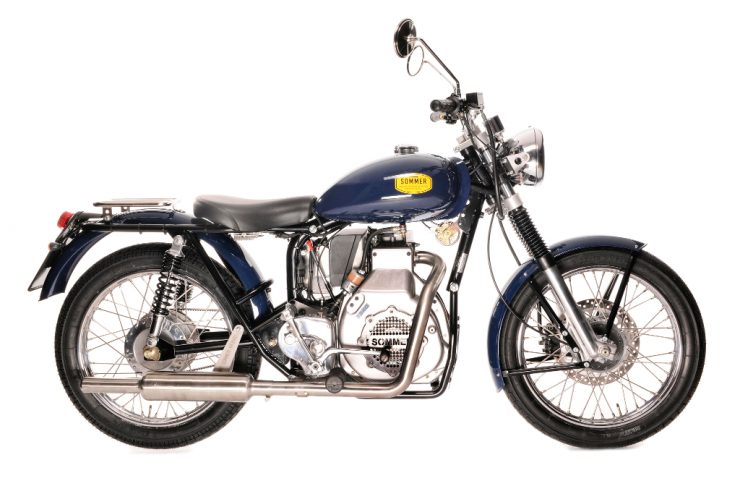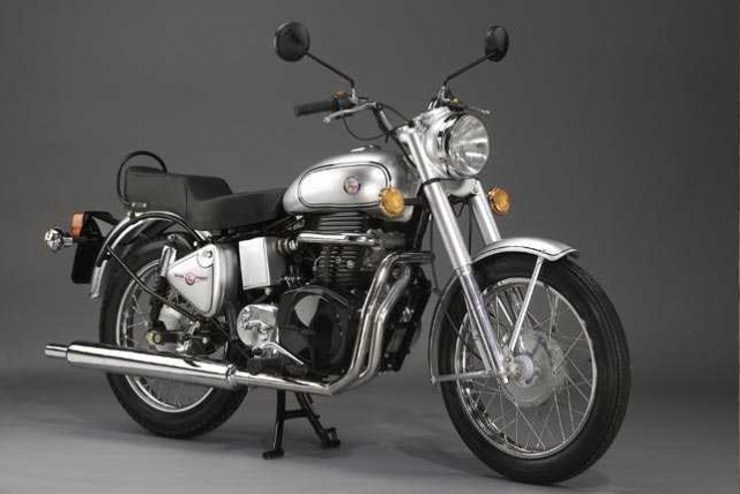 Currently diesel motorcycles are being mass produced by Hayes Diversified Technologies (HDT) for military use. The HDT M1030M1 is based on a re-modelled Kawasaki KLR650, which is fitted with a specially designed 584cc diesel engine and boasts a top speed of 90mph. The project was jointly undertaken by Cranfield University and HDT. Fuel consumption is 96mpg (US). The bike is already being supplied to the US Marine Corps where it is known as the M1030M1 JP8/Diesel and is also being supplied to Britain and NATO where it is designated the M1030M1E AVTUR/Diesel Military motorcycle. The civilian bike is expected to be called the D650A1 "Bulldog" but due to pressure of military sales it is not available yet. Hayes introduced an upgrade model of their diesel motorcycle in 2010. This model is the HDT 1030M2 and has a 670cc engine with multi-fuel capacity.
There are other specialist custom builders out there which are worth a mention:-
Star Twin Thunder Star 1200 TDI which is fitted with a three cylinder Volkswagen Lupo 3L 1.2 litre diesel engine modified with a custom crankcase and mated to a five speed gearbox. The engine is claimed to produce 90bhp.
Neander Motors: This prototype bike was unveiled in 2005 and boasted of being "The world's first turbo diesel motorcycle". The Neander's performance is impressive with power rated at 112hp @ 4200rpm and top speed of 220km/hr (137mph). Unfortunately Neander is no longer making this bike and their website states they are working on marine outboard engine technology.
Track T-800: This is another Dutch bike, it uses an 800cc turbo-intercooled triple cylinder engine from a Smart car. The bike was designed as an adventure touring machine with high ground clearance and long suspension travel. Top speed claimed is 100mph and fuel consumption around 80mpg. The bike was well featured and included a full Brembo braking system and looks reminiscent of the BMW GS and the Yamaha Super Tenere. Engine life expectancy is claimed to be in the order of a quarter of a million miles. The Track T-800 sold in Britain for £16,000 which proved to be an impediment to sales.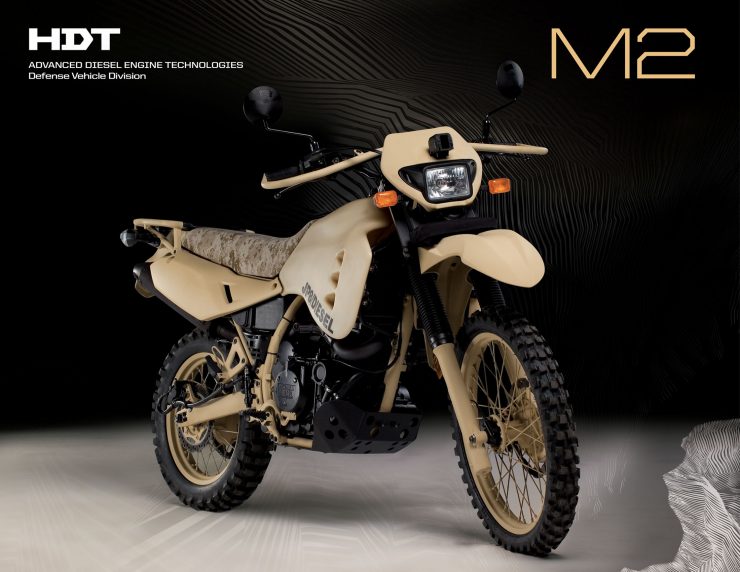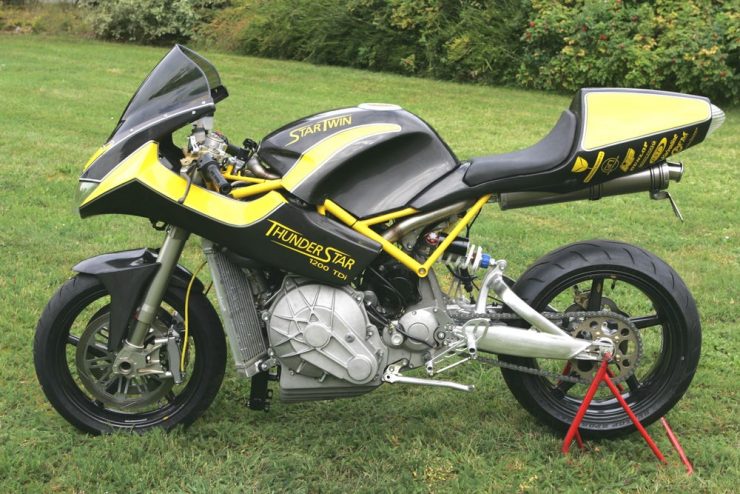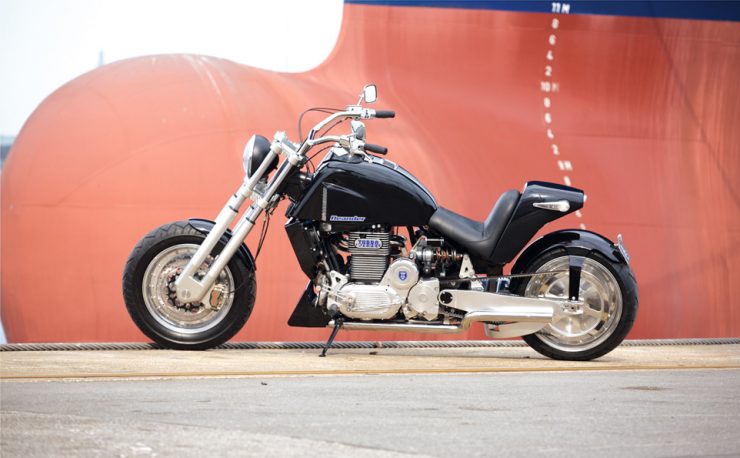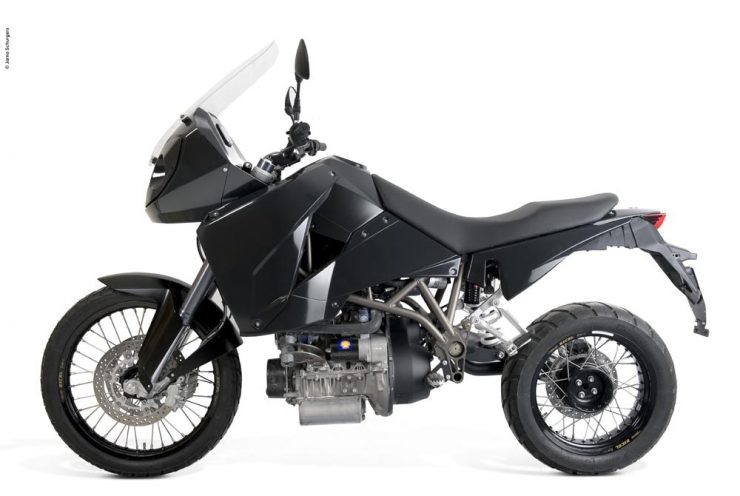 Those looking for a diesel motorcycle need to look to the specialist custom builders such as those we've mentioned above. Russian motorcycle manufacturer Dnepr also makes a diesel model so that is a possibility although the process of importing and road registering the bike would certainly eliminate any benefits from the fuel economy. For most motorcycle riders the additional cost and lower performance of a diesel motorcycle will mean few would open their wallets for one. The other issue is government regulation of emissions which was one of the factors that pushed the Royal Enfield diesel motorcycles out of production. So for now it is the military that have a real need for diesel bikes and the HDT products are fulfilling that need. Sadly that means that those adventurous types who love the smell of diesel and dust when we're miles from anywhere will have to build their own, buy from one of the custom builders, or wait for the military bikes to come up for auction once their service life is exhausted.
As always, if you have information or advice on how we can make this brief history better, or if you think we missed something important, please let us know in the comments below.
Note: We were unable to find reliable torque figures for many of the motorcycles listed above, so we chose to stick to horsepower figures as a comparative measure. Though when it comes to diesels, torque numbers are obviously preferable.
You can discuss this material in our Facebook group!
Source: Silodrome