Anti-gang unit section commander Lt-Col Charl Kinnear was shot dead outside his home in Cape Town on Friday afternoon.
Kinnear, 52, was working on several high-profile investigations and was the investigating officer in an extortion case involving alleged underworld figure Nafiz Modack, the murder case of Satudarah MC boss Tim Lotter and the murder case of Cape Town attorney Pete Mihalik.
Sources told TimesLIVE they believed the attack on Kinnear was a hit. Photographs showed the policeman's body in the driver's seat of a white Toyota Corolla.
He appeared to have been shot through the window, which was smashed.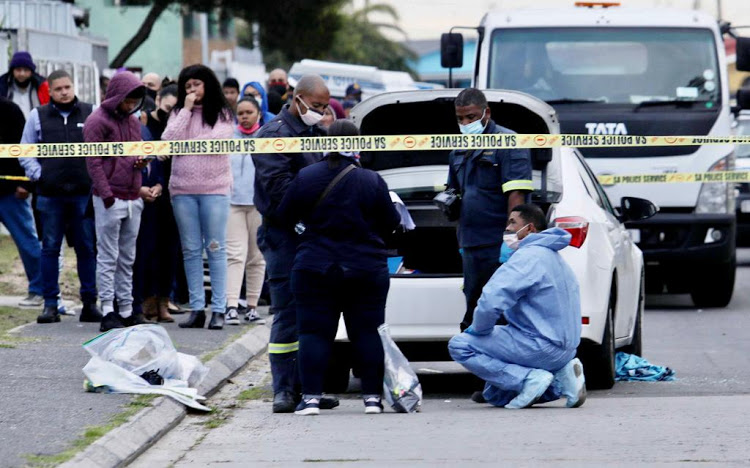 SA Police Service commissioner General Khehla Sitole expressed outrage at the killing of a man he called one of the service's top investigators.
The colonel was attached to the Western Cape anti-gang unit as a section commander involved in investigations into several high-profile cases resulting in multiple arrests, said a statement from spokesperson Brig Vishnu Naidoo.
Sitole had ordered Western Cape commissioner Lt-Gen Yolisa Matakata to implement the 72-hour activation plan "to mobilise critical departments including crime intelligence, forensic experts, the Hawks and tactical units to ensure that evidence or information that could assist in the successful investigation of this case is not lost".
Sitole said: "We are all saddened by this tragic untimely loss of Col Kinnear. His murder is a huge loss to SA and its people.
"The South African Police Service will not rest until those responsible for his murder are brought to book."
Brig Novela Potelwa, in a statement from the Matakata's office, said police were "reeling in shock".
She said: "Preliminary reports indicate that [Kinnear] was found in his vehicle shot several times in the upper body at 3.20pm. He was shortly thereafter declared dead by paramedics. The vehicle was a few metres from the deceased's home in Bishop Lavis.
"Crime scene experts are still combing the scene for clues. Meanwhile, the Hawks detectives are investigating a murder docket."
Kinnear, who had 30 years of service, had received several threats to his life and last year suspects were apprehended outside his home in an alleged plot to throw a grenade at it.
The shooting comes just two days after police minister Bheki Cele announced the creation of a steering committee involving the City of Cape Town, the police, the Hawks and the provincial community safety department to tackle the city's expanding extortion threat.
Cele is expected to fly to Cape Town on Saturday morning in response to Kinnear's murder.
The shooting also follows the murder of Lotter's associate and fellow Satudarah MC member, Stefan Venter, in Gordon's Bay last week by a gunman who fled on a motorcycle.
Mark Shaw, director of the Global Initiative against Transnational Organised Crime, said Kinnear's murder should be "a huge wake-up call" for government policy makers.
He added: "Organised crime and its connections to state institutions in SA, particularly the police, is a serious issue that has grown steadily over time. This has not occurred overnight.
"The state response has been weak, poorly resourced and corrupted. Serious organised crime figures have effectively escaped prosecution. Cape Town has been at the epicentre of these developments. We are paying the price."
Make sure you have subscribed to our Facebook page or Twitter to stay tuned!
Source: Times Live