A biker hacked repeatedly at the head of a fellow chapter member with a meat cleaver before escaping on a Harley Davidson after a row over club rules.
David Laponder, 35, launched what prosecuting barrister Kevin Slack described as an "extremely violent attack" on Daniel Gibbons in the street on Old Liverpool Road, Warrington, at around 11am on March 21 this year.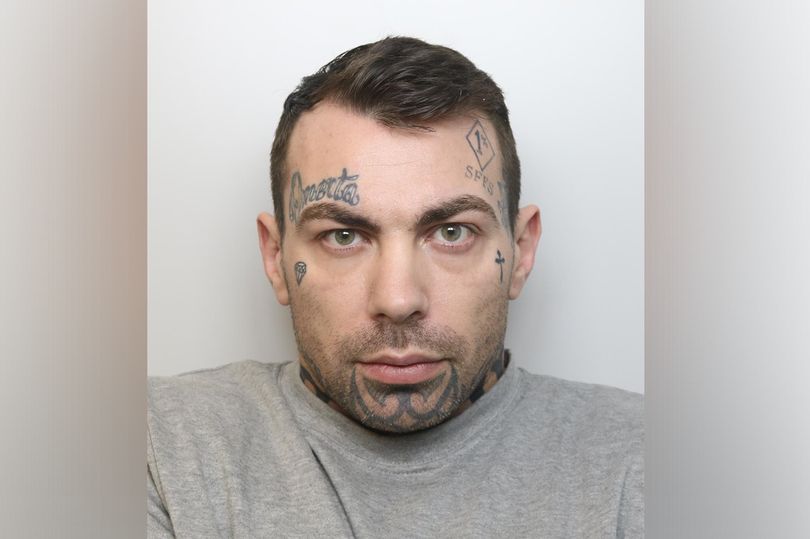 After attacking his rival, the thug made off from the scene on the high-powered bike leaving his victim with a fractured skull.
Liverpool Crown Court heard a window cleaner was up his ladder when he heard the two men shouting each other and saw Mr Gibbons back away across the street saying "Dave, drop the knife, just drop the knife".
Laponder – a member of the Tameside chapter of the Sons of Hell biker club – swung the blade at Mr Gibbons – from the Warrington chapter – who tried to grab it and appeared to "lose his balance on the kerb and fell backwards".
The knifeman then "stood over the victim and repeatedly struck him with the meat cleaver".
Hearing the blade land made the window cleaner feel instantly "sick at the sound of the first blow, the sound of it hitting Mr Gibbons's head" during the "frenzied" barrage.
The incident was captured on dashcam of a passing vehicle and showed the defendant hacking at Mr Gibbons "a total of eight times with the meat cleaver" with what the prosecutor called "clear ferocity".
Separate dashcam footage filmed a bloodied Mr Gibbons fleeing on foot with his attacker limping behind him.
One passenger in a passing vehicle and who saw the pair of men wasn't sure at first if they were "fighting or mucking about" and they seemed to be "wrestling", but with Laponder looking "dominant".
She saw Mr Gibbons fall back and try to stand up only for Laponder to hit him with the meat cleaver to the back of the head.
Laponder was heard shout "I'm going to kill him" and the passenger saw Mr Gibbons bleeding from the head.
Brave passers-by began pulling up and getting out of their cars and vans to intervene.
One woman said Laponder looked "angry but not out of control" adding that "he had the look of a villain out of a horror film" as he limped up the street.
Another man even tried to stand between them and shouted at the attacker "what are you doing?" to which Laponder replied "what are you going to do?"
This prompted another biker to step in and coax away the attacker.
Laponder threw on his leathers, was seen stowing the cleaver in his bike's "pannier" bag, and rode off from the scene on a Harley Davidson.
In another act of public "courage", he was followed by another passer-by who trailed him in her car to take down his registration and pass it to the police.
Make sure you have subscribed to our Facebook page or Twitter to stay tuned!
Source: The Liverpool Echo