DRUGS worth more than $20 million and an industrialised sized pill press which could produce 8000 pills an hour have been seized by police.
About $180,000 in cash and guns were also seized during two police raids in Perth.
The major drug haul, which includes weapons and manufacturing equipment, was unveiled at WA Police Academy today.
Assistant Commissioner Brad Royce said the drugs, firearms and cash seized came from two search warrants last week which were not linked.
"We had a search warrant in Jandakot where we seized a large pill press, which is capable of producing up to 8000 pills an hour," he said.
"From that address, we also seized a number of firearms, enough MDMA powder to produce about 5000 to 8000 pills.
"We charged six people with a total of 34 offences, we took $180,000 out of the house in cash and seized about $1.3 million in assets."
He said this was only the second pill press of the large size seized in 25 years.
Police said search warrants were also executed in Leederville, Joondanna, Gnangara, Landsdale and Morley, targeting Outlaw Motorcycle Clubs in the Perth metropolitan area.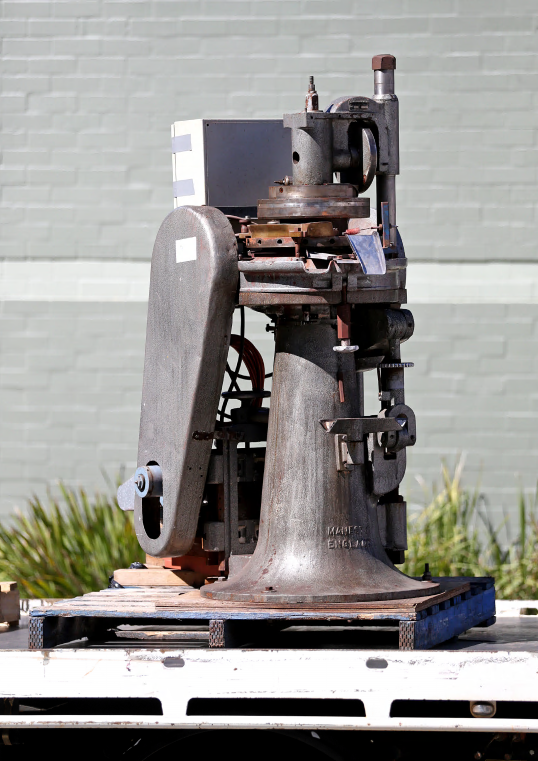 It will be alleged the gold found during the searches, worth more than $20,000, was stolen during a Midland burglary in 2018.
Five men have been charged with a string of offences while a 20-year-old woman received a drug diversion notice for possession offences.
Commissioner Royce said police seized 20kg of methamphetamine, 5kg of heroin and about $1.2 million in cash at the second job in Alkimos.
Police said the methamphetamine at 20kg was worth around $20 million street value.
"The MDMA seized is worth around $400,000," Commissioner Royce said.
Police said a 47-year-old man and a 47-year-old woman, both from Quinns Rocks, have been charged with drug-related offences.
Commissioner Royce said the Jandakot house was linked to an Outlaw Motorcycle Club but the Alkimos residential property was not linked to any organisation or club.
"These are two big seizures in recent weeks and police won't be resting here, they will be looking for more," Police Minister Michelle Roberts said.
The searches were conducted as part of police working with other government agencies including the Australian Criminal Intelligence Commission.
Make Sure You are Subscribed to our Facebook page!
Source: North Coast Times