CENTRAL WEST, NSW, Australia – Police on Friday shut down the outlaw motorcycle club Bandidos Central West Clubhouse.
Three Firearms Prohibition Orders have also been issued as part of an operation targeting outlaw motorcycle clubs (OMC) in the state's Central West.
Officers from Central West Police District and the Criminal Group Squad's Strike Force Raptor established Strike Force Birrewa to investigate the activities of the Bandidos OMC Central West Chapter.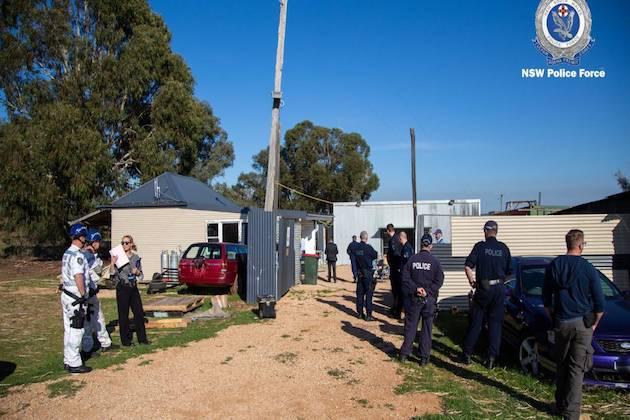 As part of their inquiries, strike force investigators, assisted by Chifley Police District, the Dog Unit and the Rescue and Bomb Disposal Unit, executed a restricted premises warrant at the Bandidos OMC clubhouse on Belgravia Road, Molong, just after 7am on Friday morning.
Inside the clubhouse, police located numerous items relating to the operation of a restricted premises, including items associated with illegal supply of liquor.
Investigators also uncovered an unlicensed 'puppy farm' on the property. Further inquiries will be conducted into their code of practice.
A short time later, strike force investigators conducted three searches at homes at Eurimbla and Orange.
During the searches, police seized two firearms, ammuniotion, and a replica firearm, and observed Bandidos OMC colours and paraphernalia.
The firearms will undergo forensic and ballistic examination.
In addition, police issued three consorting warnings, 5 traffic infringement notices, and three red label defects.
Police say investigations under Strike Force Birrewa are continuing, and charges are expected to be laid in relation to the seized firearms.
Strike Force Raptor conducts proactive investigations and intelligence-based, high-impact policing operations to prevent and disrupt conflicts, and dismantle any network engaged in serious organised criminal activity impacting NSW.
Make Sure You are Subscribed to our Facebook page!
Source: Big News Network