Six weeks ago Hamish Hiroki was the national president of the New Zealand chapter of the notorious outlaw Bandidos Motorcycle Club.
Now he's quit the club, is raising funds to build a night shelter in Christchurch and, next week, will ride a bicycle 620km to Bluff wearing an elf suit.
The Bandido Nation is a "one-percenter" outlaw club with a worldwide membership.
"Our saying is love, loyalty and respect."
"I hate pushbikes," says Hiroki, looking at his golden bicycle disdainfully and wiping beads of sweat from his bald head with a giant hand.
"I haven't ridden one since I was a kid and only got back on one three weeks ago."
Having finished a 30km training ride to Sumner on a blazing 30 deg day in Christchurch, he stands shirtless outside his tattoo studio, Muscle Ink.
Pointing to a building under construction at the rear of the site, he smiles. "I've sunk $17,000 into the shelter so far but it hasn't even touched the sides yet."
Why is he building it? "I want to help people.
"Living the life I've lived for a long time, you get used to hurting people. Over in Australia I was like a debt collector… That was the start to the end."
At the end of last year his life took a dark turn.
"I've always been pretty headstrong. I suffered from anxiety and depression towards the end of last year. I had no idea what was going on. I found myself in a very dark hole, it was really hard to get out of it."
Hiroki's voice falters. He composes himself and his eyes meet mine as he talks about his suicide attempt.
Suffice it to say, the fact he survived it was freakish.
"That was enough for me, I've had enough of the bulls..it, enough of living in a negative world."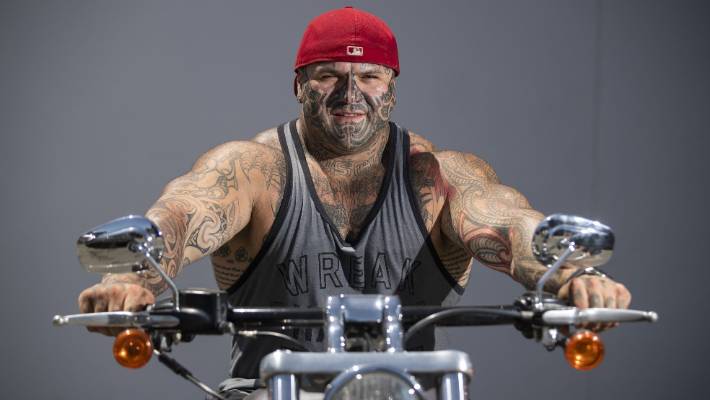 'LEAVING FOR MY SON'
Before joining the Bandidos, Hiroki was the president of HIghway 61s in Christchurch.
He doesn't use "gang", he prefers "club".
"Four months later I signed on with the Bandidos. A week later I was president here in Christchurch. Three months later I was national president of the Bandidos.
"I had the mentality then of 'if something needed to be done I would go do it, not a problem'. That was my life."
He particularly enjoyed the national runs – riding his motorcycle with 30 or 40 people on long stretches of open road – "there's nothing like it".
But now he's chosen a new life.
"I left purely for my son. He is 3. I don't want my son to follow in my footsteps, that's the reason I left."
He waited until the national ride to tell the club he was leaving.
I ask how many people belong to the Bandidos in New Zealand and he answers: "A few."
When I press him further he folds his arms across his substantial chest and grins. "It would certainly fill this whole place up," he says eventually, gesturing around us.
Was he nervous about leaving?
"Yeah. I waited until then to tell them so if there was some problems…
"Oh yeah, of course. But then when I told them a few of the boys actually cried. I've had nothing but support from around the whole world. I have travelled a lot with the club – Bandidos are pretty much in every country in the world.
" I certainly left a lot behind but I have gained a lot too. Nothing will stop me from opening the shelter one way or another."
Since last year, Hiroki has regularly held barbecues for the city's homeless whànau. "When I was in the club we helped to feed families and held barbecues for the homeless but you don't get to hear about that stuff," he says.
"One thing with our club, none of the boys ever done crack, we had a massive rule on that. Not one of the guys since the Bandidos have been going in New Zealand… six years now."
In the club world Hiroki says a lot of people "hate crack".
"You have a lot of clubs that are doing a lot of good but there is also a lot of fakeness surrounded with that. People don't trust it and that's purely because some people are preaching about how good they are yet behind it they're flooding the place with crack and coke."
As he talks, Hiroki pounds his fist into the palm of his hand.
"I missed the first year of my son's life because of the mental state I was in," he says.
"I had a boys' mentality at the time. But once you go through a hard time, it wakes your soul up, you know, and you see what is important and who is there and who is not, who is true and who is fake… you see it all."
Eventually he realised he needed to move on for his son's sake.
"I had enough of all the negative bulls..t. It always landed on my doorstep because I was the boss."
When I press him for further details he slowly removes his shades.
"Problems with other clubs… how the boys react," he says, eventually. "I got tarred with everybody's brush. I was just over it. From having my son…. things changed."
After surviving his suicide attempt, he describes feeling as if a light switch was "turned on".
"What the f… have I been doing with my life? What a waste of time… time, money and effort."
What really "nailed home" his decision was watching his toddler son sitting on his Harley wearing his helmet and scarf.
"At the start I took pictures of him and thought it was cool but after a while I thought I don't want him to go down the same road as me."
Hiroki grew up in Wollongong, south of Sydney. He returned to New Zealand from Australia when he was deported in 2011.
"I spent a bit of time in jail over there."
Why?
"For guns," he says.
Of the detention centre, he shrugs good-naturedly: "Oh, well, it's jail isn't it. Certainly not a nice place."
Hiroki's motto is "active is attractive". The gym is his "passion".
"Two weeks ago I had a mild heart attack and wound up in hospital," he says. "The gym has saved my life but yeah, I'd say the supplements caused the heart attack. Since that I've stopped."
Doctors have advised him not to undertake the bike ride to Bluff but he's going anyway.
"I've already set the challenge and I have to follow through with it."
As a kid, Hiroki says he was overweight.
"I was enormous. My gut used to hang down to between my knees, my hips. It really affects you, you lack confidence. If you lack confidence you lack everything else."
He taps the side of his head with his index finger: "If you look good, feel good up here, it all falls into place."
We chat about ego and alpha males.
"It took me a long time to lose my ego. From being the boss, I had to walk around staunch, had to be that guy… it's a f…ing waste of time," he says. "Most males go through that stage where they want to be the alpha male, they want to be the man, the guy who has all the girls, cars, money and gold. That's how I used to be."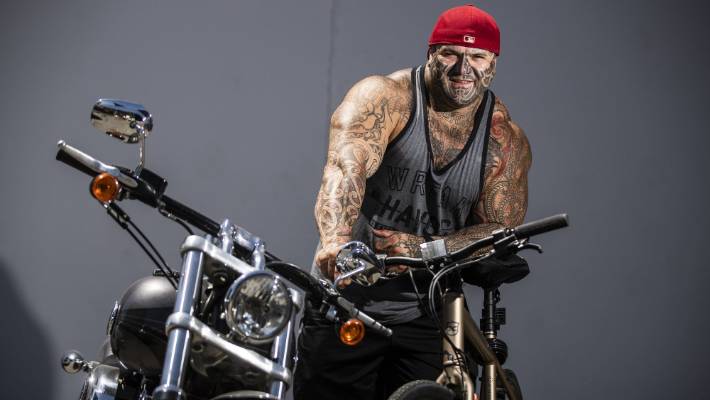 NEW MINDSET
Every Thursday night, Hiroki holds a men's group. Men from rival clubs and all walks of life sit side by side.
"It started with eight fellas, last week we had 27," he says.
"A lot of people walk the Earth lost but they have all the answers in here." He taps the skin above his heart with two fingers.
"They are trying to look out here for the answers instead of looking inside them. It has taken a lot of hardship to work that out."
To restart his life, Hiroki watched YouTube videos about positive thinking. "Now I am mind strong. I spent a lot of time on my mind. I have been working on it for at least one hour a day. The first thing in the morning I go for a walk. It works."
Each morning he shares his thoughts via Facebook. When he started around 30 people were watching, now it's around "2800 people".
"It is hard not to talk from the heart. You have to be connected to something – whether it be your land, where you've come from, you have to belong to something."
Hiroki knows that some hearing about his shelter plans will be cynical but assures he is genuine.
"People still see me as the boss of a club. How much proof do you need? I've thrown in my patch."
He has spent some time on the streets, and knows night shelters run by "a book" are not helpful.
"How can you relate to these people if you've never spent a night on the street or been through this shit?"
The shelter will be open by March, in time for next winter. At full capacity it will sleep 30 to 40 men and women.
"I am going to have four family rooms in there too for kids," he says.
"We have had heaps of donations, 40 sheets of gib dropped off last week. We have had some washing machines, a dryer, two lounge suites, nine beds at the moment. What I believe is if you build it, they will come. My job is to start it, then get the people in to help me run that side of things."
SANTA'S HELPER
Riding a bicycle to Bluff was a spur of a moment decision.
"A 620km ride is not something I want to do…"
He glares at the bicycle.
"I'm the sort of guy that what doesn't challenge you won't change you. I see it as a massive challenge for me."
At this stage he plans to wear a festive red and green elf suit for the entire journey.
"I love taking the piss out of myself," he says. "I'm known as the class clown. If you can't have a laugh at yourself there's something wrong."
Could he have imagined doing this a year ago?
"No, no way. But that's what happens when your soul wakes up. Things change."
Source: Stuff