The murder of Timothy Lotter, president of the South African chapter of Satudarah motorcycle club, might be linked to an underworld fight for control of nightclubs and drugs according to key underworld figures.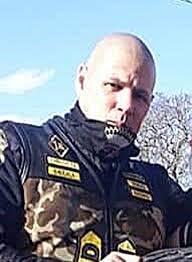 Timothy Lotter, 47, the owner of Extreme Security Measures, was gunned down in his white Ford bakkie in Goodwood, Cape Town, last Sunday. His killing came less than a month after the murder of former Cape Town gang leader Rashied Staggie, and a crime intelligence source said both shootings could have been revenge attacks.
Extreme Security Measures and Satudarah have emerged as central players in an alleged feud between business rivals Nafiz Modack and Mark Lifman, with security industry sources claiming they were being used as "muscle" to control security and the flow of drugs into nightclubs.
In 2018, Modack-linked The Security Group lost out on a lucrative contract at The Grand Africa Café and Beach, next to the V&A Waterfront, to Extreme Security Measures.
Lotter is linked to Lifman's associate, Andre Naude, and his murder has put the spotlight on the possible involvement of internationally feared motorcycle clubs, including Satudarah, in the nightclub battle.
Police, underworld and motorcycle group sources, including former Satudarah members, said the group was firmly entrenched in SA, specifically in Durban and Cape Town, where it has allegedly started muscling in on the drug trade.
Satudarah, founded in the Netherlands in the 1990s, was banned there in June 2018 after its members were linked to violent organised crime, including narcotics trafficking.
The club's emergence in SA has been met with outrage and fear by most motorcycle clubs. In October, hundreds of bikers gathered in George and handed a memorandum to police, asking that they stop Satudarah members from establishing themselves in the Garden Route town.
Lawyer Hein Mare, representing motorcycle clubs opposed to Satudarah, said Lotter had become involved in something over which he had no control by bringing the club into the country. He said Lotter headed the Satudarah club in SA.
In the world of biking there was a constitution with written rules, he said, "as opposed to gangsterism, where there are many unwritten rules. The problem with Satudarah is that it is not into biking for biking. They tell you that they are but they have a different agenda. You can see this from the countries they have been banned in. It's clear Tim broke rules. In gangsterism if you break the rules, you pay with your life."
Modack declined to comment on Lotter's murder and Lifman said he had nothing to do with Lotter.
"I know that he and my friend Andre Naude were in contact, but I wanted nothing to do with him," Lifman said. "I came to know of him via an associate. They asked me if I would use his services as he was involved in close protection, but I declined."
Lifman said that other than a Christmas Day message from Lotter, which he ignored, he had not communicated with him since two years ago, "when he provided me with certain information on Modack. I thanked him for it but since then there has been nothing between us."
On Lotter's murder, he said: "If you make your own bed you need to sleep in it. I don't mix with people like these. When Andre started chatting to him I told him to stay away because of the person he is. The day before Staggie's death I told Andre the same thing. Andre and I, who are close, have been through a lot together. He, however, is his own person with his own business. We follow our own paths."
Lifman said he was against extortion, intimidation and drugs.
Naude said he believed Lotter was killed because of his stance against drugs and extortion. "I advised Tim on security at the nightclubs and he ran a clean outfit. People opposed this."
Asked about the motive for the murder and Lotter's Satudarah position, he said he had no idea, or what Lotter's exact involvement in the group was. "I don't want to comment on their business. I preferred not to speak to him about that. He may have got out of his league and gone to a point of no return, but I don't know. What I do know is that those who were close to Tim and supported his legacy and values will not let those who killed him take over his clubs."
Naude declined to comment on links between Staggie and Lotter.
A biker, who asked that neither he nor his club be identified, said Lotter's killing was a clear message. "Like with Staggie, Lotter broke rules. There were certain agreements but they were never stuck to."
An ex-Satudarah member said the murder may have been about the expansion into other people's turf, adding: "People claim Tim's death could be linked to club rivalry but it's something more. It's not worth one's life to ask too many questions."
At the time of going to press, we had been unsuccessful in obtaining contact details for surrent Satudarah members.
Police spokesperson Capt FC van Wyk said a murder case was being investigated.
Make Sure You are Subscribed to our Facebook page!
Source: Sunday Times