It's 10 a.m. and four loud Harley-Davidson Road Glides start their shift on the deserted avenues of a sleepy Florence under lockdown. Road captain Gitano, also known as "the Gipsy," leads the group on its way to a family needing support in this difficult time of the COVID-19 pandemic.
The ritual has been repeated every day since the city, like all of Italy, was put under lockdown more than 40 days ago.
In this time of need, the Iron Fist Motorcycle Club of Florence has embraced the idea of supporting the city's elderly and poor citizens who cannot leave their homes by bringing them food donated by club members, private citizens, and volunteer associations.
The club's usual motorcycle trips on white Tuscan roads have been replaced by tours of the city's urban center. The saddlebags, usually stocked with gear, now hold cans of peeled tomatoes, pasta, milk, biscuits, and bread.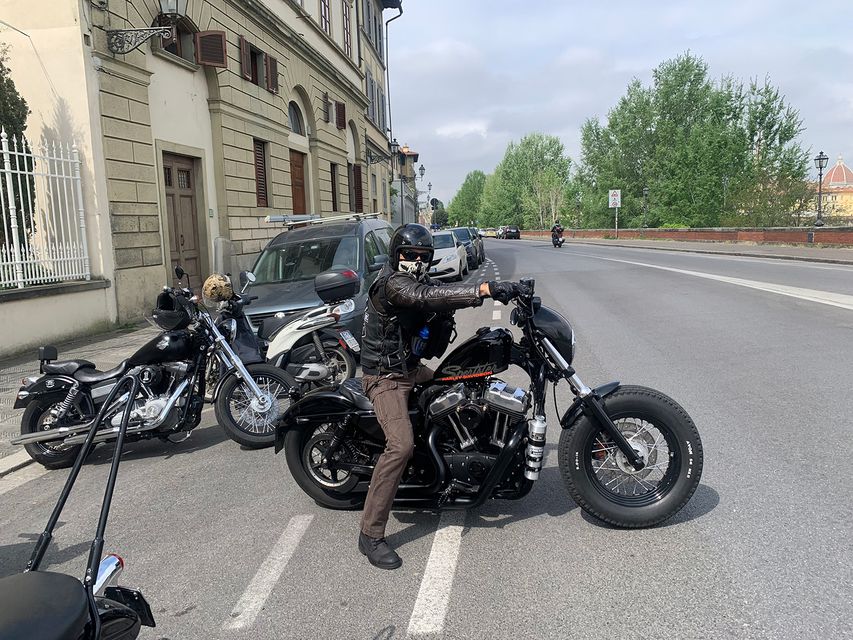 "We decided to deliver our contributions with our Harley-Davidsons," says Pietro Bernardi, the founder and president of the Florence chapter of the Iron Fist Motorcycle Club, which numbers 40 members.
Their presence around the neighborhood doesn't go unnoticed; a compulsory sanitary mask covers their face, with patches on the backs of their jackets identifying the club name atop a huge logo showing two fists, just to let everyone know these are Harley guys – not Honda or BMW riders.
"The first difficulty we encountered when starting our volunteer service was the distrust of the people and suspicion from the police. At the beginning we were stopped many times by the police because we were circulating in a time when it was forbidden to circulate, and we were gathering at the Gattabuia Restaurant on the Lungarno to collect food to distribute to the homeless, as well as to old people who cannot leave their homes."
The situation seemed to be a complete paradox since Bernardi himself is in law enforcement, and during the pandemic he has often had to ensure that Florentines respect the rules of nonessential travel and social distancing.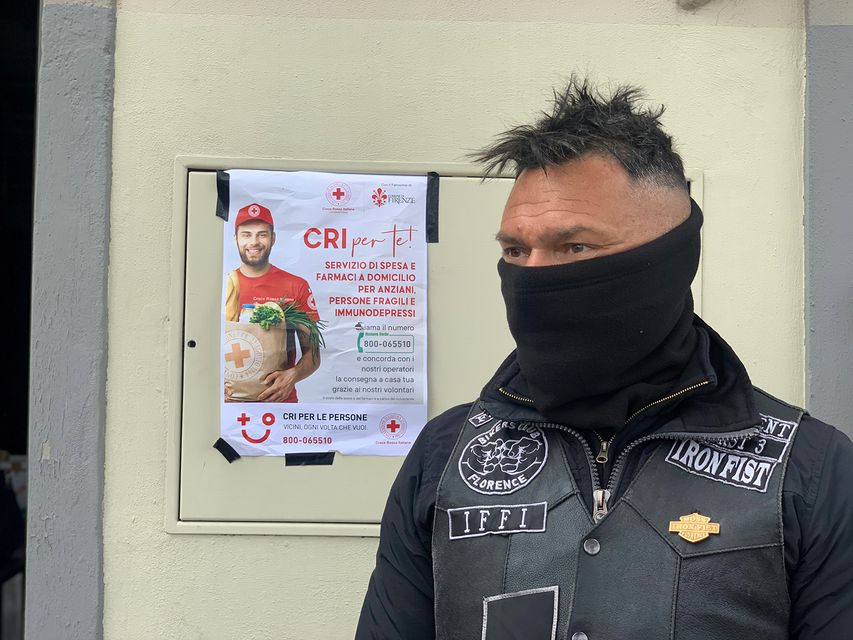 Bernardi, whose nickname as president of the Iron Fist chapter is "The Boss," goes on to say, "The second issue was the stereotype of the Harley-Davidson rider, often associated with the idea of the bad boy."
That's also understandable; when some people see a Harley rider, a distinct image pops into their head. They may think of an overweight middle-aged male with a long beard, leather jeans, and a sleeveless shirt showing tattoos, wearing a leather jacket with patches, and sporting a bandana.
You might recognize him from a distance because of the unique Harley-Davidson rumble, especially if the mufflers have been removed. When the Florentines saw this group of loud Harleys rolling through the city's deserted avenues, they may have thought they were in a scene from Sons of Anarchy.
"In our volunteer work we collaborate with the Italian Red Cross, and when we get to an old lady's house and ring the bell, she doesn't expect to see a man wearing a leather jacket with pins and patches, leather boots, and tattoos. Sometimes we have had to convince some of the older women to open the doors, but now everyone knows us and it's great to see how perceptions of the Harley-Davidson rider has changed," Bernardi confesses.
"On Easter we were especially moved after riding to the home of a 55-year-old man. He cried when he received the food because he was starving—he had lost his job due to the coronavirus spread."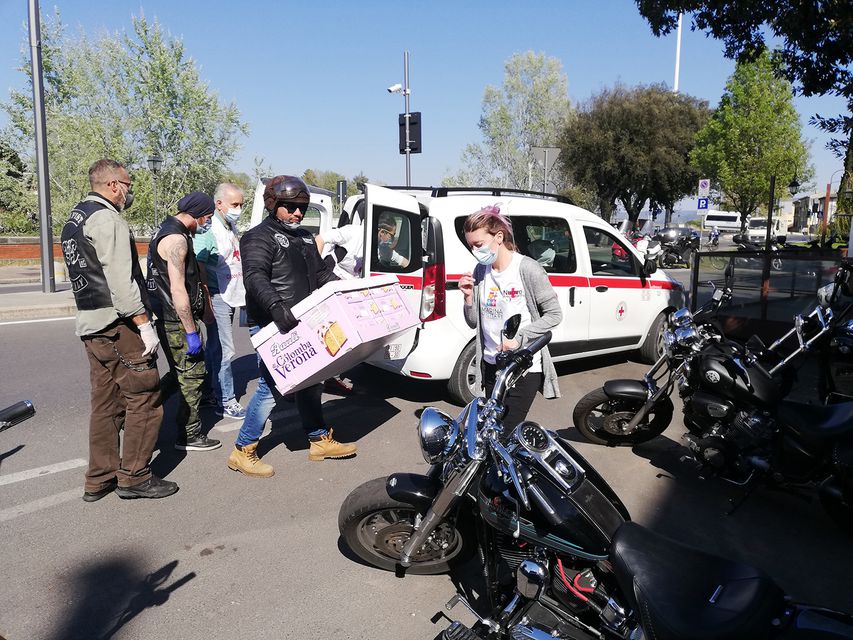 Every day the Iron Fist riders put in three shifts lasting two hours each to reach the indigent people, who, by word of mouth, contact the club in order to receive the support service. "Usually we meet old people who live alone. Some are disabled, others are scared to go out. There are also men in their mid-50s who have lost their jobs. Along with food we also distribute sanitary masks, donated by a club member," the Boss says.
"We have had to take special measures in order to respect all safety precautions. We do shifts with four bikes at a time, and we wear gloves and masks, and the food we deliver is sanitized twice: once when it arrives at the Gattabuia Restaurant, and again when it's packed to be distributed. We carry the food on our Harleys.
The Electra Glide's hard bags are particularly capacious, but otherwise we'll fill the other leather saddlebags and also carry one big shoulder bag. We usually reach three to four families per shift, and around 12 total per day." Bernardi rides a black Sportster Forty-Eight, but he has three other Harleys in his garage.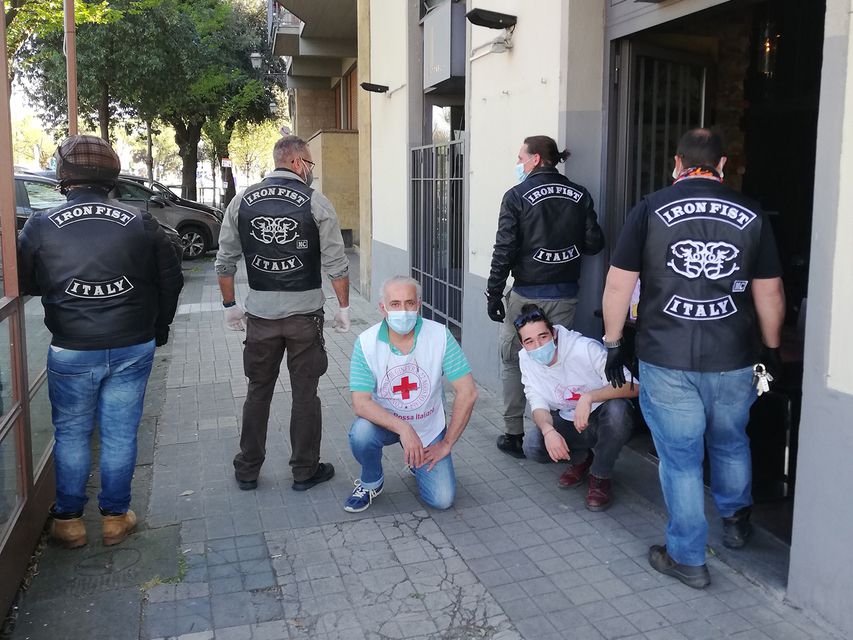 "A Harley is not just a machine; it's a status and an expression of oneself," Bernardi says. "The bike has a soul, and its rumble is the beating heart of this jewel made of iron. The social aspect is also very important because when you buy a Harley, you become part of a family, of a group who shares the same values. This volunteer experience has strengthened the brotherhood among the club members. The local authorities as well as many citizens now know us, and we are treated with respect.
"We belong to this city. In our normal lives we hold all kinds of work: Paolo, known as 'The Red,' for example, is a baker, Andrej 'The Piston' is a car mechanic, Gitano 'Gipsy' is our road captain, and he is a transporter in daily life. Our motorcycle club is very well structured, and it's been great to adapt our internal organization to this special social service. We are proud of our contributions, and to have changed the image of the Harley-Davidson riders. We've gone from frightening the locals to having them call us modern knights."
Make sure you have subscribed to our Facebook page to stay tuned!
Source: Cycle World