The lockdown has been hard on many people and hunger is starting to bite many families in Germiston.
To help alleviate this problem the Crusaders Motorcycle Club (MC) South Africa visited Elsburg last Saturday where they handed out food parcels to 160 families (which equates to about 720 people).
This was the second week in a row that they had visited Elsburg.
The week before they fed 150 families (which equates to about 580 people) in need.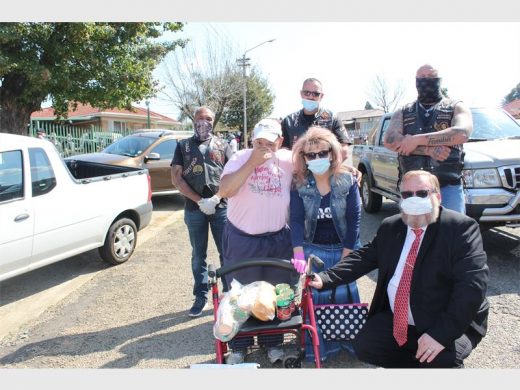 Three chapters of the Crusaders MC SA were involved in the project, namely the Babarayaan, East Side and Johannesburg.
The handover took place at the Elsburg Lede in Christus Kerk in Botha Street under the grateful eye of Pastor Johan Barwise, the head pastor of the church.
He told the GCN that the need in the area is great and the church has continued with its soup kitchen to help alleviate hunger in the area.
Theo Kloppers, the president of the Babarayaan chapter, said that the food parcels consisted of various items, including mealie meal, soup, beans, canned food and bread.
"We also handed out pies to people while they were waiting in the queue for the parcels," Theo said.
Along with members from the three chapters he was assisted at the handover by Lester David, the East Side president and Llewellyn Johnie, the Johannesburg president.
He told the GCN that since he grew up in Lambton he is familiar with Germiston, and knows of the need in Elsburg.
The Crusaders have helped over 1 000 families in need with the project in various areas.
"I started out wanting to help 200 families and we managed to get enough donations within three days," Theo said.
The donations are both internal (from the motorcycle club) and external (predominately from the biking fraternity).
"I then put out a challenge on Biker Hart Radio and said that we want to feed 1 000 families and the donations have grown from there," he said.
The Crusaders delivered food parcels for another 200 families on Saturday successfully making their target of 1 000 families.
They still want to continue helping needy families and if you would like to make a donation to the project you may contact Cliff Greenfield on 082 399 6993.
Make sure you have subscribed to our Facebook page to stay tuned!
Source: Germiston City News