A GROUP of bikers has been whizzing around Colchester raising a smile and causing a stir by delivering essential goods and collecting foodbank donations.
Mathew Donoghue, 38, started a social media group hoping to encourage riders to come together to help the isolated and vulnerable during the Covid-19 crisis.
Together the bikers have been seen roaring through Colchester, taking on tasks as simple as dropping off a prescription or a loaf of bread, or collecting donations to keep Colchester Foodbank afloat.
Last week the bikers stopped off in Holm Oak, Monkwick, to pick up some donations.
"The response we got was really nice, It was nice to see people smiling," said Mathew.
"We're all about community side of motorcycle riding, if we can get out and help at times like this then we'll do it.
"One of the kids, a little girl bless her, was trying to race us down the street smiling at us on a little pedal trike.
"Before we turned up no-one was out on the street, but people were all coming out to see what was going on.
"A lot of time we will go out individually, I'll put it out on the Facebook page and someone will volunteer for a quick drop-off.
"When we do the foodbank stuff we have a few of us riding, otherwise one person can't fit everything onto one bike.
"We are keeping our distance and at the same time doing it for a good cause – something that is needed."
Colchester councillor Dave Harris serves as a point of contact for the group, requesting drop-offs, deliveries and assistance as and when the need arises.
Chick Cox, of Queen Elizabeth Way, accepted delivery of a loaf of bread on Thursday.
He said a socially distanced chat with one of the riders brought back memories of his own biking days.
"It's social contact people are missing," he said.
"My wife got a standing order with bakery to drop us off two loaves of bread, so it supports them too.
"People like me who aren't getting out much appreciate the efforts, like these, being made on our behalf."
Mathew, a former soldier, has another motive too.
Alongside his brother Jamie, he recently founded the Midnight Shades riding group, and they hope to steer youngsters towards a more fulfilling pastime.
"The idea for me was to bring in as many people interested in riding as we can," he said.
"It can give a sense of purpose.
"Rather than perhaps have them hanging out at McDonald's getting in trouble for pulling wheelies and stuff, the idea is to make them feel part of something, but something good."
For more, find the Covid-19 Colchester Community Motorcycle Group on Facebook.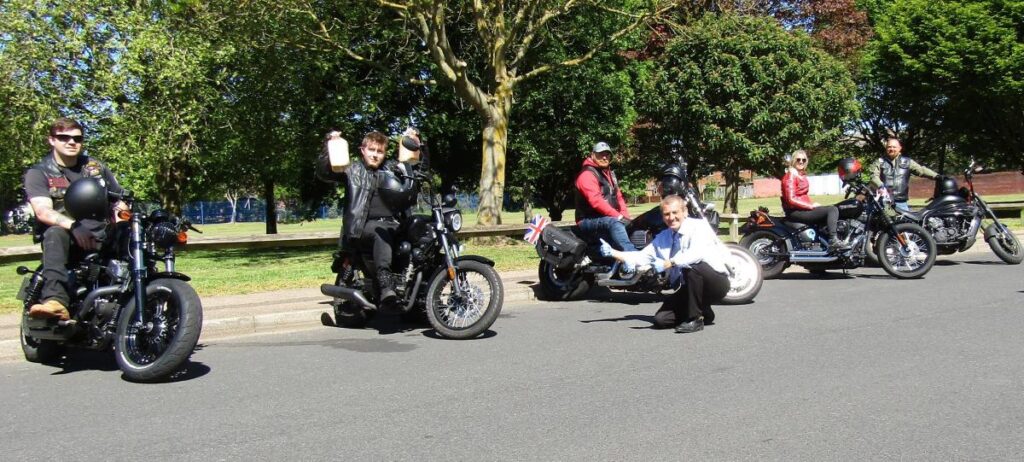 Make sure you have subscribed to our Facebook page or Twitter to stay tuned!
Source: Essex County Daily Gazette Standard