A tattooed man wearing jeans, a helmet, sunglasses and sleeveless leather jacket bearing a yellow cross with the insignia, "Crusaders MC" above it, stands in the middle of a busy intersection, stopping traffic. He waves us through, along with 20 or so roaring motorcycles, each carrying a leather-clad rider.
It's a little strange to see these big guys, many wearing thick silver chains and biker boots, also wearing the light blue hygienic masks that have become ubiquitous in public places. These guys don't look like they're afraid of anything — certainly not a little virus. But despite stopping traffic at their own discretion, they seem to be keen to play by the rules.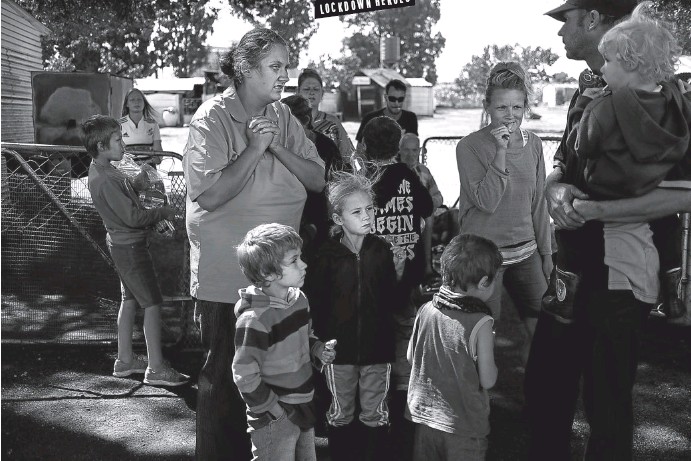 The masks are a sign of the times — the very difficult times for the many people affected by the country's lockdown. Living under difficult circumstances at the best of times, many poor communities have now been disadvantaged even further by the billions of rands of losses hitting our economy. The Crusaders want to help.
Formed in 2006, the close-knit Crusaders Motorcycle Club (MC) SA is one of the biggest motorcycle clubs in South Africa with more than 25 chapters across the country. They are the "1%ers ", a reference to a comment once made by the American Motorcyclist Association "that 99% of motorcyclists [are] law-abiding citizens" and the remaining 1% "outlaws ".
Today they're on a mission to deliver food parcels to hungry communities affected by Covid-19 at the Bredel Caravan Park in Kempton Park on the East Rand of Johannesburg and Jerigo Oord in Delmas.
The citizens arrive at their first stop and cause quite a commotion. A large truck with plastic bags full of potatoes, beans, various cans, juice, biscuits, fresh bread, chips and other foodstuff parks in the dusty space between makeshift shacks, board houses and caravans. The inhabitants form a circle around the man with a microphone, Crusader disciple Theo Kloppers, who is insisting on a few metres of space between everyone: "Even if you're married," he says, "make sure that it happens."
Kloppers is the man behind the message that went out at the start of lockdown to the motorbike fraternity to pull together to feed the hungry, poor and homeless. A helpline enables the club to identify communities in need, which their benevolent fund assists. He introduces the Crusaders MC's national president, Mark Groenewald, wearing a mask that says "we care". Groenewald thanks the community for accepting their benevolence with open arms. "We live by the code of brotherhood," he says. "People have a bad conception of motorcycle clubs, but there's a Robin Hood in all of us."
Thokosane Kabango, a beneficiary of the Crusaders food parcels, seems to agree. "We haven't worked for 45 days," she says. "They have given us enough food to last for a week. We would really struggle without the help. I'm a foreigner but they don't exclude me. They give to all of us." Standing next to her, CJ Esterhuizen adds: "People protect each other here. We live here like a family, we don't see white or black. These men have come like angels among us."
Groenewald says that despite the way they are perceived, the club is protective of society. "Sure, we go out and have fun. We party hard, we ride hard but we don't stand for bullies, we protect the community and we deal with abuse. We do what we can to help, but," he's keen to stress, "don't mistake kindness for weakness."
The ethos of the club is brotherhood, discipline, respect — not fear — and a helping hand. They're the 1%ers, the outlaws, but in the words of poet David Whyte: "The outlaw is the radical, the one close to the roots of existence. The one who refuses to forget their humanity and, in remembering, helps everyone else remember, too."
Make sure you have subscribed to our Facebook page or Twitter to stay tuned!
Source: Sunday Times