Six men have been charged with drug trafficking after the South Australia National Anti-Gangs Squad found more than 320 kilograms of dried cannabis and $50,000 cash at a suburban Adelaide property yesterday (Wednesday 3 February 2021).
Police will allege the Rebels MC has been using the Northfield residence as a so-called 'safe house' for drug activity.
SA NAGS, which consists of Australian Federal Police and South Australia Police, executed a search warrant at the property yesterday morning with the support of SA Police STAR Group and Crime Gangs Taskforce officers.
They allegedly found the cash and large amounts of cannabis inside the house and will allege the property was being used as a processing facility to package dried cannabis for distribution.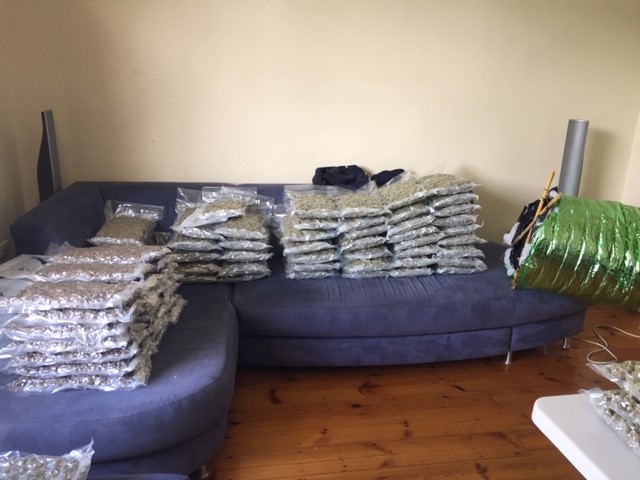 Six men were arrested at the property and have each been charged with trafficking in a controlled drug, namely cannabis, contrary to section 302.4(1) of the Criminal Code Act 1995 (Cth).
A 32-year-old man is expected to face Adelaide Magistrates Court today (Thursday, 4 February 2021).
The other five men, aged between 33 and 45, are expected to face court on 14 April (2021).
Police will allege the men are associated with the Rebels MC.
Detective Superintendent Gavin Stone said the cannabis seized could have netted approximately $1.55 million in illicit profits.
"This is a significant seizure and we are pleased to prevent so much of this illicit drug from reaching the South Australian community," Detective Superintendent Stone said.
"We will allege that the Rebels OMCG was profiting from this illicit operation and our inquiries are ongoing into the extent of the operation and network.
"Outlaw motorcycle gangs exist only to make money and they will recruit or work with people who facilitate their criminal activities, which directly impact on the Australian community. "These arrests and seizures show that we are one step ahead and we will continue disrupting criminal ventures and put people before the courts."
SA Police Detective Superintendent Steve Taylor, officer in charge of the Serious and Organised Crime Branch, said this is another great example of how closely law enforcement works in partnership to combat bikies and organised crime in Australia.
"We are quickly able to call on additional support from multiple agencies to bring criminals to justice," he said. "Our collective commitment to make South Australia safer and hold criminal groups to account is unwavering. There is a strong probability that you will caught."
Make sure you have subscribed to our Facebook page or Twitter to stay tuned!
Source: AFP Press Release