Jarheads MC is gathering outside Gillette Stadium for a memorial honoring seven of its members who were killed in a collision with a truck last month. Patriots owner Robert Kraft was among those who attended the tribute, announcing he is making a $100,000 donation to the group's fundraising effort.
The Jarheads, a club which includes Marines and their spouses, say the event Saturday afternoon in the stadium's parking lot will include music and remembrance. The club also says on its website that it will be accepting donations to assist the families of those killed and to help cover medical expenses of members who were injured in the June 21 crash.
Kraft made a surprise announcement when he took the stage in the Gillette Stadium parking lot.
Kraft said he will be donating $100,000 to the Jarheads MC fundraiser. The group is has an online fundraising page that has surpassed $550,000 and has a goal of $700,000. In addition to his $100,000 donation, Kraft said he will chip in whatever remains at the end of the day to reach the fundraising goal.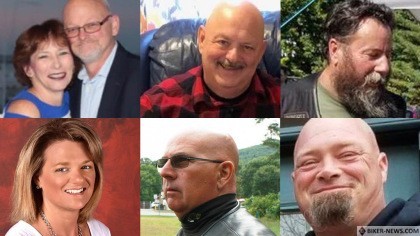 The seven bikers were killed when a pickup truck hauling a flatbed trailer slammed into a group of riders in Randolph, New Hampshire.
Last weekend, about 3,000 people participated in "Ride For The Fallen 7" throughout the roads of New Hampshire.
The pickup driver, 23-year-old Volodymyr Zhukovskyy, of West Springfield, Massachusetts, has pleaded not guilty to negligent homicide charges.