Zackary Yagnich testified that Brian Keruskin told him to leave right before the beating in a Charleroi social club that sent a former member of the Pagan Motorcycle Club to the hospital for weeks.
The account Yagnich gave of conversations he had with Keruskin, 57, of North Charleroi shortly before and after the April 18 attack on Troy Harris were part of a hearing during which District Judge Larry Hopkins ordered Keruskin and alleged co-conspirator Joseph Olinsky III, 45, of McKeesport to stand trial on conspiracy to commit homicide, attempted homicide, aggravated assault and other charges filed by Charleroi Regional police. Both men are being held in jail without bond.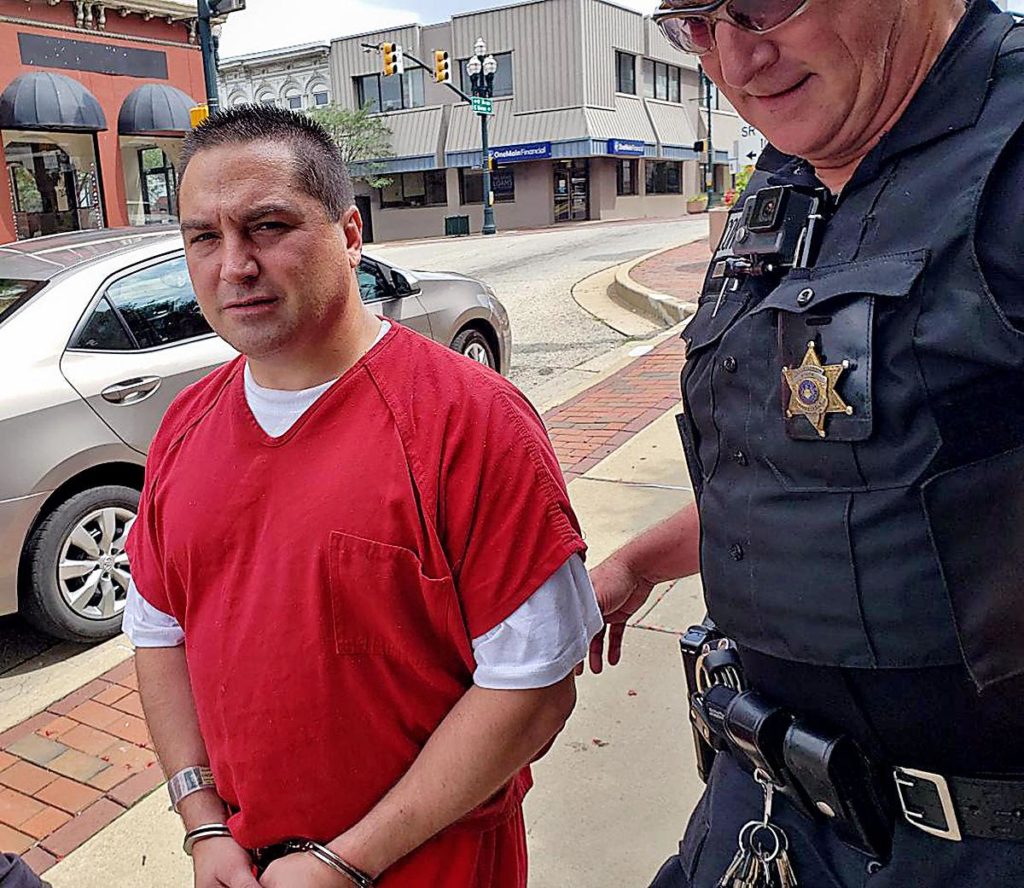 Harris, of Fallowfield Township, sustained a traumatic brain injury and numerous other wounds during the attack, and was flown to Allegheny General Hospital in Pittsburgh that night. His wife, Michele, testified that he was unconscious until May 1, and spent a total of seven weeks in different hospitals.
He faces charges in Allegheny County stemming from a handgun that was found in his pocket and had been reported stolen, but no one has testified they saw him with one at the bar.
Ryan Tutera, Olinsky's attorney, said that no witness at the hearing had been able to place his client inside the Slovak Club during the beating. Washington County Detective Kiprian Yarosh testified that Jamie Granato – who at the time was the fiancée of Matthew Vasquez, another Pagan – had identified Olinsky by a nickname in surveillance video and had some information about him – including that he was on federal probation – but seemed not to know him well.
"It's hearsay upon hearsay," Tutera said after the hearing. He added: "Granato doesn't know (Olinsky)."
He also said that there had been no evidence that anyone had planned to kill Harris. For example, no weapons were used.
"They never showed a specific intent to kill," he said.
Tutera also questioned the significance of the fact that a surveillance camera had captured the license plate of a motorcycle registered to his client around the time of the assault. His client owns multiple motorcycles, and someone else could have used it.
Yagnich – who described himself as having been a supporter of the Pagans but not a member – said he spoke to Keruskin, who is president of the club's Fayette City chapter, shortly before the attack, when he told him to leave the area. They met up later that night at a bar in Perryopolis. There, Keruskin asked him if surveillance footage from the bar could be erased, he said.
"That's conspiracy," said Deputy District Attorney Jason Walsh.
Michael Zagari, Keruskin's attorney, said Keruskin's warning to Yagnich wasn't evidence he'd committed any crime.
"At most, that's awareness, and that's it – awareness that something might happen," he said.
Yagnich, 26, of Charleroi conceded under cross-examination by Zagari that Keruskin never actually asked him to do anything regarding the surveillance footage.
Yagnich said he agreed to look into erasing the footage, but it was never deleted. Video of the attack was played last month during a hearing for six other reputed Pagans – Corey Volk, 24, of West Newton; Paul Cochran, 54, of Charleroi; John Sadvary Jr., 39, of Penn Hills; Vasquez, 30, of Monessen; Joshua Pagliei, 43, of Monongahela; and Jason Huff, 40, of Plum – who also are in jail as they face charges in the attack.
Granato, 28, also is charged. She is cooperating with prosecutors but hasn't testified.
Michele Harris, the victim's husband, testified that her husband had been brought into the Pagans by Keruskin. But at some point, the men had fallen out.
She said her husband was now a member of the Sutar Soldiers, an offshoot motorcycle club.
She was sitting a few seats away from her husband at the bar about 10:15 p.m. when she said the group of "seven to eight" men filed inside behind Yagnich. One of them knocked her husband off his stool, and she wound up crawling between their legs as they kicked at him, and took some blows herself. By the time they left, she was trying to shield him.
"I thought they were going to kill him," she said.
Make Sure You are Subscribed to our Facebook page!
Source: Herald-Standard