Three Niagara Falls men, including one longtime outlaw biker, face drug and firearms charges as part of a sprawling 14-month-long joint forces police probe that led to the arrest of 12 other people resulting in a total of 195 criminal charges laid.
Two members of the Hells Angels Nomad chapter, based in Sudbury, were among those arrested during Project Skylark, which investigated a drug-trafficking network in Niagara, Ottawa and Sudbury. Members of two Hells Angels subordinate clubs — The Red Devils and the Hooligans — were also arrested.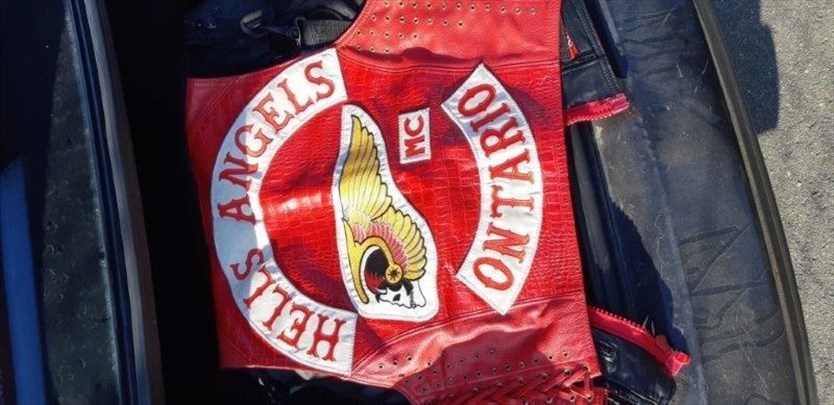 Among those arrested is 31-year-old Keith Earle of Niagara Falls, who faces 23 criminal charges including several for cocaine trafficking and four related to human trafficking, including two charges of procuring a person for a sexual purpose.
Earle is a member of the Red Devils but in 2013 was a member of the Black Pistons, a club controlled by the Outlaws, once a major rival to the Hells Angels.
Two other Niagara Falls men charged in Project Skylark — William John (Jesse) Hunter, 30, and Dillon Keeley, 24 — were not identified by police as being members of a biker club. They face drug-trafficking and gun charges.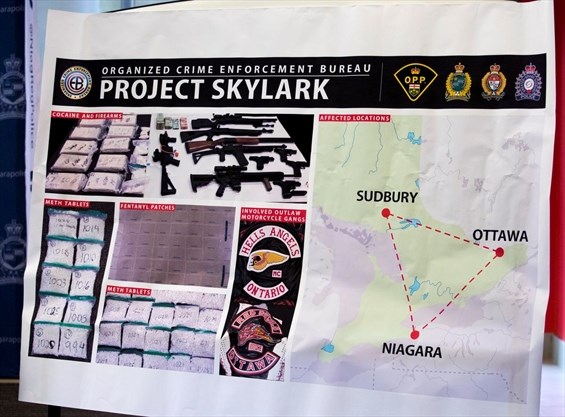 The 13 men and two women arrested were in custody in Sudbury pending bailing hearings.
Police said the operation also included two people from Hamilton, one from Blind River and one from Orleans, and involved trafficking fentanyl patches, cocaine, methamphetamines, oxycodone, cannabis, and shatter (a highly concentrated form of THC, the active substance in cannabis).
"These individuals would have not formed criminal networks without their association to the Hells Angels, The Red Devils or The Hooligans," Ontario Provincial Police Supt. Bryan MacKillop said.
MacKillop disclosed few details about the police investigation Wednesday. In response to specific questions about how the bikers and their allies were moving drugs and trafficking people, he said an investigation is ongoing.
He did say in the case of fentanyl patches, the drugs were "diverted" from their legal use to be trafficked, although he would not provide further details.
He also would not say how many people were trafficked nor in what cities.
"Human trafficking is prolific," MacKillop said. "And organized crime groups use people as another commodity because their activities are always profit-driven."
Acting Niagara Regional Police Chief Brett Flynn said he could not disclose how his officers became involved in Project Skylark except to say they joined the investigation early in the process.
He said the trafficking operations in three cities show how outlaw bikers are no longer content to only engage in criminal activity in the communities in which they are based. Rather, he said, they use their networks to move drugs across the province and link up with other criminal operations.
"It used to be that organized crime groups, like outlaw biker clubs, more or less kept to their own. Now you are seeing these groups networking together because they know they can make a profit," he said.
The arrests represent the first high-profile Niagara arrests linked to outlaw biker club activity in several years.
In 2006, the joint forces Project Tandem resulted in the arrests of most of the Niagara chapter of the Hells Angels, and eventually led to the seizure of their clubhouse on Darby Road in Welland.
In 2013, Project Resurgence led to the arrests of several lower-level biker club members, including members of the Black Pistons.
Police intelligence sources said those projects were significant blows to local biker clubs, but it did not kill them off entirely. Over time, the clubs reformed with new members.
The Hells Angels, based in Niagara Falls, still have a presence as does their local puppet club the Renegades. Police intelligence sources could not immediately say how many active outlaw bikers are in Niagara.
Make Sure You are Subscribed to our Facebook page!
Source: The Standard