Peel police have made an arrest in a shooting that happened during a motorcycle gathering more than two years ago.
The incident, which happened on June 4, 2017, occurred in a parking lot in the area of The Gore Road and Ebenezer Road in Brampton.
During an alleged altercation between a man and the suspect, the victim was struck by a single gunshot wound. The 41-year-old man from Brampton suffered life-altering injuries.
On Wednesday, officers arrested Andre Martin, 34, of Toronto in connection with the incident and was charged with attempted murder.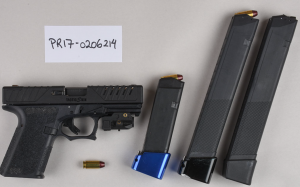 A search warrant was later executed in the area of Lansdowne Avenue and Dundas Street West in Toronto and a loaded firearm with ammunition was allegedly seized.
As a result, Martin is also facing five weapons charges.
He appeared in court on Thursday.
Make Sure You are Subscribed to our Facebook page!
Source: City News