The twin sister of a senior Melbourne bikie is likely to spend at least the rest of the year in custody after being refused bail on allegations she helped run her brother's violent "criminal enterprise".
Sarah Bruce, 36, is facing charges including trafficking methamphetamine and arson after a lengthy Echo Taskforce investigation uncovered an organised syndicate that was allegedly behind a drive-by shooting, the torching of cars and the attempted sale of a high-powered assault rifle across Melbourne's north-west.
Earlier this week, the Melbourne Magistrates Court heard that detectives were investigating Ms Bruce's twin brother Matthew Bruce – sergeant-at-arms of the Rebels' Melbourne chapter – when they discovered nine others were allegedly helping organise and carry out his orders.
While Ms Bruce was under surveillance, Detective Senior Constable Todd Greaney told the court that police overheard her attempting to find a buyer for a semi-automatic SKS assault rifle. The rifle, illegal in Australia, is the same firearm used in a string of mass shootings in the US.
In other phone calls, police allege Ms Bruce discussed trafficking ice and later sold 244.9 grams of the drug – just 5.1 grams shy of a commercial quantity.
In one call between the siblings, Mr Bruce allegedly said: "Can you ramp up sales … cos I want to get more?"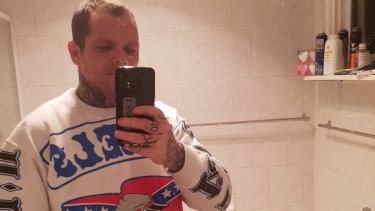 Ms Bruce replied: "Yeah".
The court heard that as part of the police case, detectives also allege the 36-year-old mother discussed finding someone to write off a Holden Commodore that belonged to Mr Bruce's girlfriend Cursty Shields after it began displaying mechanical problems.
Days later, during the early hours of February 11, the vehicle was damaged by a stolen Toyota Yaris outside a home in Melton South. The driver fled the scene.
Three days later, police say, Ms Bruce was then involved in helping organise an arson attack on two cars in Melbourne's west.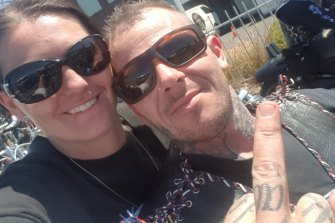 In one call Mr Bruce was allegedly overheard telling members of the syndicate that "these orders are coming from jail".
In the early hours of Valentines Day, two cars were set alight at a home in Harkness.
In deciding whether to grant Ms Bruce bail, Magistrate Michelle Mykytowcyz noted that Ms Bruce was allegedly "high up" in the syndicate and not someone simply being told what to do.
"[It was a] sophisticated criminal enterprise and each had a role in the matrix"," she said.
Ms Bruce is facing eight charges that include trafficking methamphetamine, two counts of arson, cultivating cannabis, committing an indictable offence while on bail, discharging a firearm, reckless conduct and possessing ammunition.
Her lawyer had argued that with suitable conditions she should be released on bail to undergo treatment for drug and mental issues but on Thursday afternoon she was refused bail for the second time.
Ms Bruce and her co-accused Matthew Bruce, Ali El-Ali, sisters Cursty Shields and Jess Shields, Benjamin Hills and Rodney Brooke are set to appear in court again on October 21 for a committal hearing.
Make Sure You are Subscribed to our Facebook page!
Source: The Sydney Morning Herald