Thousands of motorcyclists will ride into Mandurah in 2021 for the Ulysses Motorcycle Club's Annual General Meeting (AGM).
At a council meeting on September 24, City of Mandurah councillors voted in favour of hosting the event from March 22-28, 2021.

Up to 2000 people are expected to attend the AGM over the seven days, pumping an estimated $3.8 million into the local economy.

Founded in 1983, the Ulysses Motorcycle Club is a not-for-profit association that promotes the interests of older motorcyclists and boasts more than 30,000 members nationwide.

Membership is open to any person over the age of 40 who holds a current motorcycle license as well as their spouse, and aims to bring people together to provide companionship and mutual support to other riders.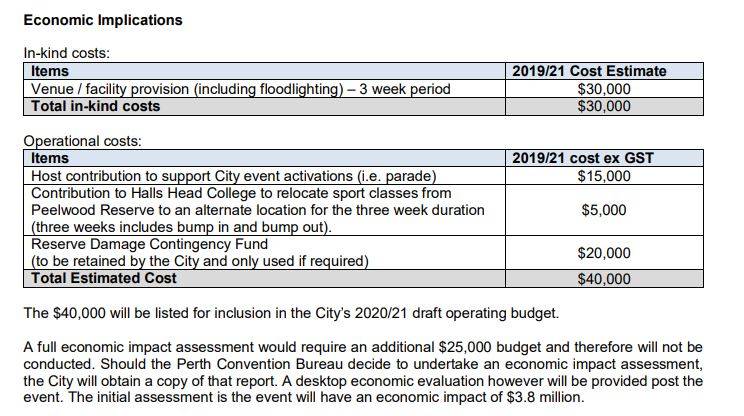 As part of the 2021 AGM, Peelwood Reserve in Halls Head will be transformed into an 'event village' with a large marquee for main meals and gatherings and tents on the outskirts of the oval.
Councillors voted unanimously to list $40,000 for consideration in the City of Mandurah's 2020/21 budget to support the AGM as well as an additional $30,000 provided as in-kind support to assist event organisers with the extra costs to host the event on an outdoor reserve.

The week-long festivities are expected to include a road safety forum, meet and greet, trade display, organised rides, grand parade and church service as well as the formal meeting.
Mandurah mayor Rhys Williams said it would be a great opportunity to promote Mandurah.

"It's very exciting to have so many people coming and to give us a chance to show the city off," he said.
"The Ulysses Motorcycle Club are a really proactive club, have got a really good reputation for community work and I think it's a privilege to have them here."

Mr Williams said playing host to the AGM was in line with the City of Mandurah's 2019-2023 Event Strategy to attract both large and small events in Mandurah.

"These sorts of events translate into huge economic spend and economic impact in the community and that's what we're all about," he said.

"Something like this is a couple of thousand people in the city for a few days, which multiplies into a fairly large spend locally.
"For a fairly small ratepayer investment, we get a fairly large spend in the community."

The City of Mandurah previously put in a joint bid with the Perth Convention Bureau to host the 2020 AGM but was unsuccessful.

For more information about the Ulysses Motorcycle Club, visit their website.
Make Sure You are Subscribed to our Facebook page!
Source: Mandurah Mail