A teenage girl was kept hidden by her new biker friends outside a Westmoreland County courtroom Tuesday so she didn't have to see the man she said sexually abused her last year.
Members of the Southwest Pennsylvania Bikers Against Child Abuse formed a human shield to surround the girl, who will turn 17 on Wednesday, as part of their continued effort to support and help young victims of sex crimes.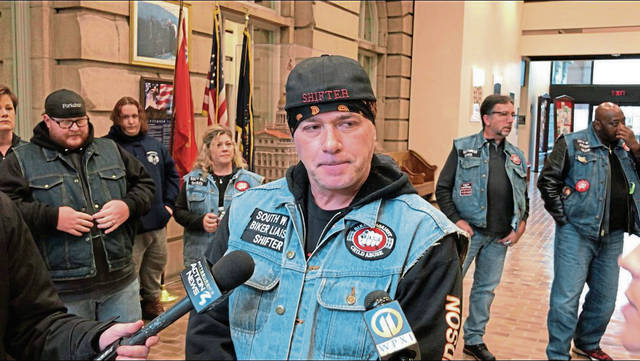 "This is what we do," said club member Greg "Shifter" Snyder of Verona. "We enjoy giving them the support and the strength to face their perpetrators." Greg "Shifter" Snyder, member of the southwest Pennsylvania chapter of Bikers Against a Child Abuse, talks about his groups support of a teen victim after her assailant pleaded guilty and was sentenced to prison on Tuesday.
Derek A. Ruth, 27, of Scottdale pleaded guilty to seven offenses, including aggravated indecent assault, statutory sexual abuse of a child and corruption of a minor. He was sentenced by Common Pleas Court Judge Scott Mears to three to eight years in prison and an additional 10 years on probation. He is required to register as a convicted sex offender for life.
As part of the plea bargain, prosecutors dismissed counts of involuntary deviate sexual intercourse and unlawful contact with a minor.
Ruth, according to police, engaged in sexual activity with the teen and took pornographic pictures of her during sex acts.
The teen did not speak during Tuesday's hearing but sat in court with her mother and members of the biker's group.
"We're here to support and empower the victim," said club President Bobby Crosby of Greensburg.
Crosby, who is also known as "Vulcan," said his Greensburg-based club, with its eight members and four pledges, was contacted by the girl's mother last year.
The girl, police said, was 15 at the time of the sexual assaults and has since became an unofficial member of the biker's group. In court, she wore a denim vest identical to club members.
The girl's mother said she heard about the club from a friend and praised their involvement in her daughter's life.
"They are like the big brothers and sisters," she said. "They've been amazing."
She said both she and her daughter signed off on the sentence Ruth received Tuesday.
"Finally, it's justice so no other child will have to deal with this man again. It has affected her and my other children. She learned a hard lesson because of it. She has been traumatized," the girl's mother said following the plea hearing.
Ruth did not issue any statements during Tuesday's court session.
He had been free after posting $50,000 bond in August, shortly after the charges against him were filed. He was handcuffed and taken to jail Tuesday to begin serving his sentence.
"You'll have (at least) three years in prison to think about what you have done," Mears said. "The lifetime registration will be a black mark against you. I hope the victim in this case is not forced to deal with this for the rest of her life."
Make Sure You are Subscribed to our Facebook page!
Source: Trib Live