BULLHEAD CITY (B-N.C) — The Men of Fire Firefighter Motorcycle Club chapter 6 puts on two events a year to benefit veterans through a contribution to the River Fund, but with the Laughlin River Run cancelled this year, River Run Executive Director Mike Conner was worried about how that would affect his programs.
That was answered on Monday, when the president of the local chapter of the Men of Fire MC, Ryan Granath, presented Conner a check for $3,590.10.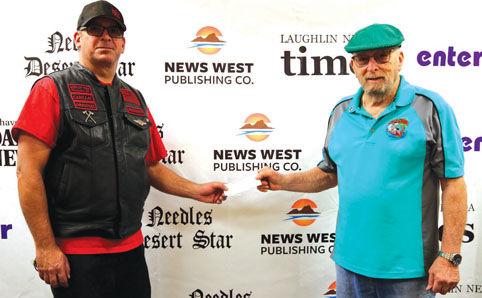 Granath, who is a firefighter out of Station 3, said that he spoke with the sponsors of the River Run Poker Run, about how they would like to handle the money that they already had contributed for sponsorship. The River Run officially was canceled for this year because of the closure of Laughlin's casinos during the COVID-19 pandemic.
"I contacted every one of our sponsors," said Granath, "because without our sponsors, we couldn't do the T-shirts and the coins and hats, and asked them what they wanted to do with the money. Some said just to float it until next year, but I didn't want to commingle funds, so I said I would send it back and they just said 'Just donate it.' That was nice."
It was especially nice for Conner, who counts on the River Run Poker Run money to help the veterans. This year has been especially hard.
"This year has been an especially unusual one for veterans and homelessness," said Conner. "So we've had a lot of expenses this year. A third of our money comes from employee payroll contributions, and when 8,000 across the river (at Laughlin's casino resort properties) lose their jobs, even temporarily, that is substantial to us."
Seven years ago when it started the poker run, the Men of Fire donated funds to the Wounded Warriors Project, but after sitting down with Conner and learning the money could be kept to help local veterans, the club began donating the money to the River Fund.
"We didn't necessarily want it to go the River Fund," said Granath. "We wanted it to go toward veterans. When we talked with Mike (Conner), he said they would set up an account just for veterans."
Last year's donation from this run was about $9,000. That money was added with about $5,000 raised from another poker run in November to celebrate Veterans Day, putting the club's donation last year at about $14,000.
"With this," added Granath, "we have now donated almost $80,000 over the past seven years."
The sponsors who have donated include: The Tropicana; Old Town Saloon; Bullhead City Fire Department; Russ Brown Motorcycle Attorneys; The River Dog Grill; Mohave Valley Daily News; Lazy Harry's Bar & Grill; Hooch's 95 Bar & Grill; TV2; Red Dog Saloon in Needles; Topock 66; Bikini Bay; Farmers Insurance; Firefighter Local 3647; Firefighter Local 4324; Firefighter Charities; The Boat Bar; Eagle Motorcycles; Stewart Concrete & Bobcat; Findlay Chevy, Buick, GMC; Swanty's Chrysler, Dodge, Jeep, Ram of Bullhead City; Anderson Ford; Dot Foods; Debbie's Dispensary; Western Arizona Regional Medical Center; A&G Towing; Automobile Consulting Group; and multiple chapters of the Men of Fire Firefighters MC.
"It's crazy," said Conner. "It's just so unbelievable that they would just donate it. They're almost all small businesses and local, and a lot of them are the bars and restaurants who have been really hurt from this. They've been shut down by the governor and don't have incomes coming in, but yet they wanted Ryan to have the money to do this for the veterans. It's just the most outrageously kind gesture I've ever seen."
Conner explained that the money will be used to help those veterans who need a hand.
As an example of what that help means, Conner said that a couple years ago, separate fires left two Korean War veterans homeless. One of them with a physical handicap that left him needing a prosthetic. They were able to use the Men of Fire donation to help get back into housing for one and off to Arkansas to live with family there for the other. He was to get replacement prosthetics.
"Had it not been for this fund," said Conner, "I wouldn't have even had the funds to pay for the (prosthetic) devices, let alone the days in hotel stays and the bus tickets. Everything."
The donations and the giving hearts of the MC has not gone unnoticed by Conner as well as his board of directors.
"We had a board meeting over the phone the other night," said Conner, "and the board members are just overwhelmingly in support of the firefighters and Ryan. There's no doubt in our mind that we couldn't do what we do without this. It's overwhelming."
The Men of Fire Firefighter MC is looking toward having its Veterans Day Poker Run in November.
Make sure you have subscribed to our Facebook page to stay tuned!
Source: Mohave Valley Daily News