Matthew J. Vasquez has been incarcerated since June 2019, but authorities have filed new charges against him, this time for conspiring to hide two motorcycles that were being repossessed.
Vasquez, 32, of Monessen, is accused of making arrangements involving three co-defendants to conceal 2014 and 2018 Harley-Davidsons.
Washington County Detective Kiprian Yarosh alleged in an affidavit that Vasquez financed the newer model through the Irvin Works Federal Credit Union and the other bike through Eaglemark Savings Bank, but failed to make payments on the secured loans.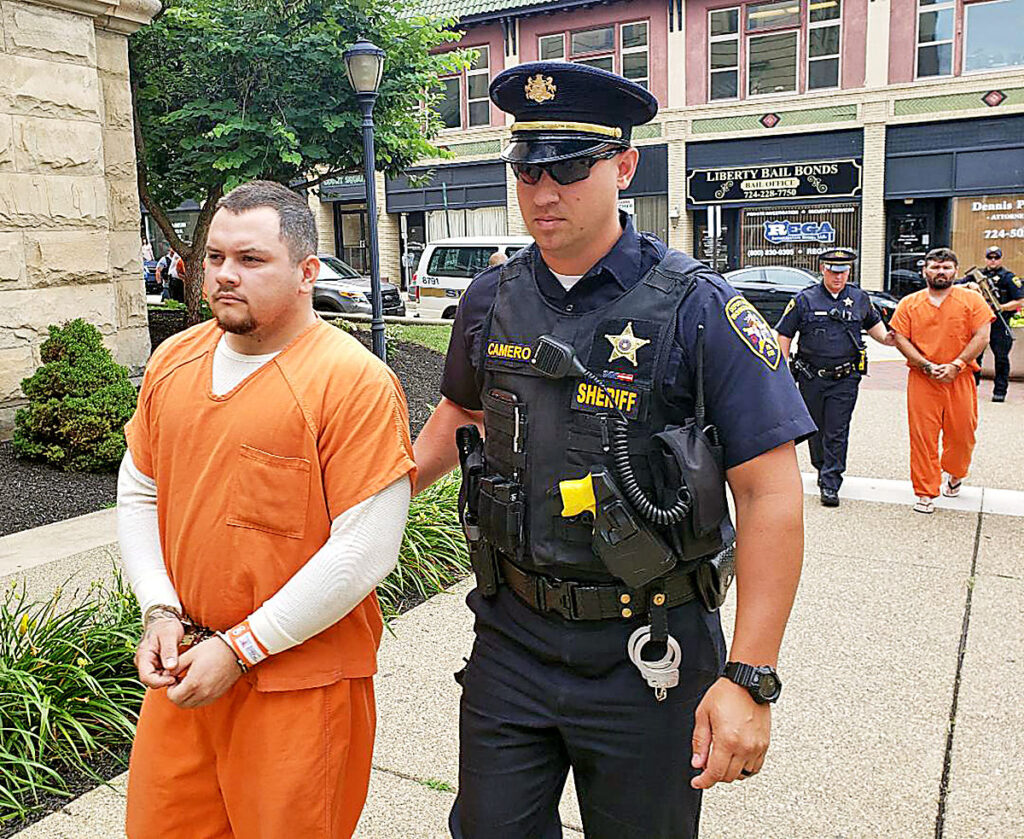 Vasquez was formerly employed at U.S. Steel's Irvin Works.
Recorded phone conversations and video chats revealed that he spoke with others about concealing the bikes between February and April. Text messages between co-defendants, Yarosh asserted in court documents, also support the allegation.
David Wadsworth, 50, of Belle Vernon, worked for American Recovery, knew payments on the 2018 bike were in default, and promised Vasquez "he wouldn't 'do him like that,'" according to the affidavit.
An unidentified friend of Vasquez had the older bike, and Vasquez, David Wadsworth, his wife, Karen Wadsworth, also 50, and Michael Allan Showalter II, 31, of Washington, made arrangements to conceal them at a store in Belle Vernon.
Karen Wadsworth said she is Vasquez's cousin.
Yarosh asked state police in Belle Vernon to obtain a search warrant and seize the bikes and impound them.
Vasquez, the Wadsworths and Showalter waived their rights to a preliminary hearing on four counts apiece of conspiracy and attempting to defraud a creditor late last month before District Judge Robert Redlinger, who set unsecured bond at $5,000.
They are scheduled next week for formal arraignments.
Vasquez is serving a sentence of 21 ½ to 43 years in prison after a jury convicted him of a brutal beating in Charleroi in April 2019 of a former Pagans MC biker who had joined a rival club.
Vasquez and Joseph Olinsky III, 46, of McKeesport, were found guilty of aggravated assault, conspiracy and simple assault. A jury acquitted them of attempted homicide charges.
A source close to the case said a lone holdout on the panel kept the men from being convicted of attempted homicide. Olinsky was sentenced to 20 to 40 years behind bars, but Judge John DiSalle found Vasquez violated a court order not to attempt to contact witnesses in the criminal case.
Both men are scheduled to appear before the judge in September after filing post-trial motions.
Several other members of the Pagans motorcycle club pleaded guilty to aggravated assault charges.
Make sure you have subscribed to our Facebook page or Twitter to stay tuned!
Source: Observer-Reporter by Barbara Miller