A drug smuggler who has been described as being at the "heart of the case" against the Comanchero President has been accused of lying to benefit himself by the President's lawyer.
The money laundering and drug trial against Pasilika Naufahu, Connor Michael Tamati Clausen, accountant Wiwini Himi Hakaraia, a media personality who has name suppression, and a woman also with name suppression began last week at the High Court at Auckland.
The five were arrested following a series of raids across Auckland in April 2019 which saw more than $3.7 million in assets seized along with luxury cars, motorbikes, luxury luggage and jewellery.
On Tuesday, a 51-year-old man, who cannot be named for legal reasons, appeared via an audio visual link from a prison in New Zealand.
The man, who the jury has heard is at the "heart of the case", has admitted the charges against him and was also the cash handler, depositing money into various bank accounts.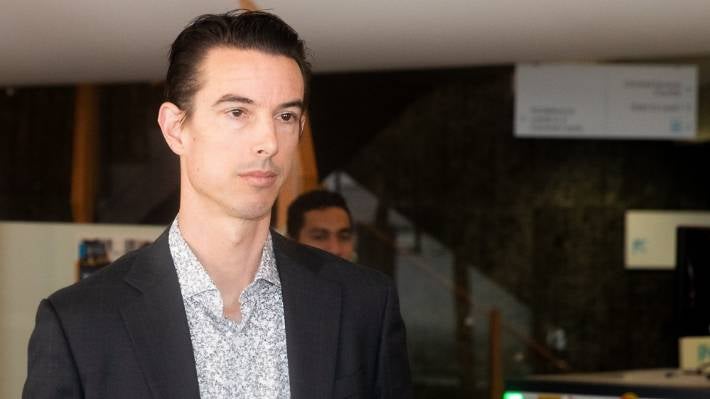 Last week, Detective Sergeant Damian Espinosa​ detailed police observations of Naufahu and the man meeting in March 2018 at a park in Bucklands Beach.
Hours of intercepted calls have been played to the jury of the man speaking with lawyer Andrew Simpson, who was jailed for laundering $2.2 million for the club, Naufahu and other associates.
Under cross-examination by Naufahu's lawyer, Ron Mansfield, the man said he was a man of God.
"You proclaim to have faith, but you were involved in the importation and supply of Class A controlled drugs here in New Zealand," Mansfield said.
However, the man continued to say he did so because he feared for his life, and he was relieved to be arrested at the airport by police.
"I suggest this story about being made to do is a self-serving lie," Mansfield said.
The man continued to deny he knew packages containing methamphetamine were being sent to his house, and thought it was equipment to set up a cafe.
Mansfield said the man was lying to benefit himself and was in prison because of that.
"I'm not an actor otherwise I would be in Hollywood," the man replied.
Earlier on Wednesday, the man said on a visit to Fiji, he picked up a suitcase from a hotel containing drugs, however the man told the court he slashed the suitcase and disposed of it in a nearby river, hoping he wouldn't be found out by his bosses.
He told them the dugs were on its way to Australia.
"This is how I get more pushed into it. It's either my life or my wife and daughter's life. I have to do whatever it takes to cooperate," he said.
The man said Naufahu was his "boss" in New Zealand and "wanted to do business".
Naufahu allegedly told the man he would take 30 per cent of the product.
Code words such as taro and kava were used to describe the methamphetamine and cocaine set for importation.
Earlier on Wednesday , the man told the court he was introduced to Naufahu by his brother and was asked to do some work for him.
The man said Simpson told him he could make deposits of $10,000 at a time.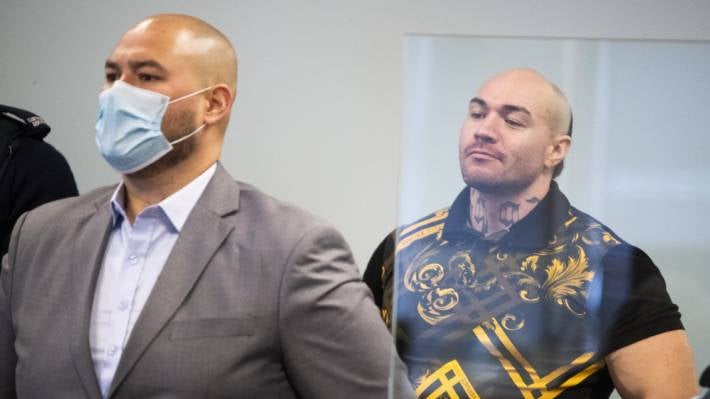 "I didn't doubt him because lawyer was supposed to give me good sound advice on the legality side of it…I thought ok it should be right," the man said.
The man told the court he used a code words such as "apples" when referring to the money transactions on the phone to the lawyer and others "incase people listening".
"It keeps it safer."
He admitted depositing money into accounts and was directed to Simpson by Naufahu or Tyson Daniels who communicated to him via a Ciphr phone, the man said.
Ciphr is an encrypted phone device which the Crown say the club used to communicate.
The man said he asked the woman, who is on trial for money laundering, when he was "under pressure".
"I got a message from them to do it as soon as possible, so I asked a friend of mine," he said.
He said he paid the woman about $2000 to help with aiding in the money drop offs.
"I jokingly said it [the money] could be from a club or something…the Comanchero."
The man estimated he received about $20,000 in total for dropping money at various bank accounts.
Sometimes he'd pick the money up directly from Simpson and other times the money would appear in his vehicle, the court heard.
Make sure you have subscribed to our Facebook page or Twitter to stay tuned!
Source: Stuff