A small but passionate group of individuals gathered outside the state Capitol in Pierre Saturday afternoon to call awareness to the Save Our Children movement.
The idea for the rally began with a Facebook post about child sex trafficking written by Bryce Lawrence. As it got more attention, Missing and Murdered Indigenous Women (MMIW) River Cities contacted Lawrence and wanted to help her raise awareness.
"I wanted to raise [my] voice for those who can't be their voice," Lawrence said.
The main idea of the event was to stand up for children who aren't able to stand up for themselves and call attention to child abuse, sexual abuse, and human trafficking.
"Human trafficking isn't just children randomly going missing or kidnapped. It starts locally. Family members, teachers, neighbors. Pedophiles are everywhere including the elite & the people of power taking women & children from ICE and all over the globe. We need to stand up for these children, women & men. WE are their voice. WE are their hope for a better life. WE are who can make a difference & put an end to this atrocious crime happening everyday," the details on the Facebook event page reads.
Jenny Ponca, who started the River Cities MMIW chapter, said that although child trafficking happens everywhere, no one is talking about it, not even on social media. Ponca said she hopes the rally will show that Pierre stands with those still missing. She was adamant that the event was not political, and said people should leave their politics at home.
"That's not what we're here for," Ponca said.
Demonstrators held signs and sought the attention of passersby. Many drivers honked their horns or waved out the window to show their support.
"Save the children — it could be yours," protesters shouted.
After the rally officially began, Violet Catches led a prayer and smudging circle to purify the air around the protestors and bring good energy into the circle before the group marched from the Capitol down to Sioux Avenue.
Catches came to the rally to provide the prayer and to let the Pierre community know they need to acknowledge missing children and relatives. Catches, a Native American, said that human trafficking has been a problem in her community since the 1800s. 
"Kids of my ancestors were taken away and never seen again. Some did come home, but they were not fond of life after that," Catches said.
In Catches' own family, her great grandmother was taken away. She eventually died in a boarding school in the early 1900s, but Catches' relatives did not know what happened to her, or that she was dead, until 1927. Recently, the family found her grave in Rapid City and continues to visit and bring flowers there.
"She was one of the missing," Catches said.
Members of the Oahe chapter of Bikers Against Child Abuse (BACA) came to show their support for the movement. They said child sex trafficking is a "big problem everywhere" without socioeconomic bounds.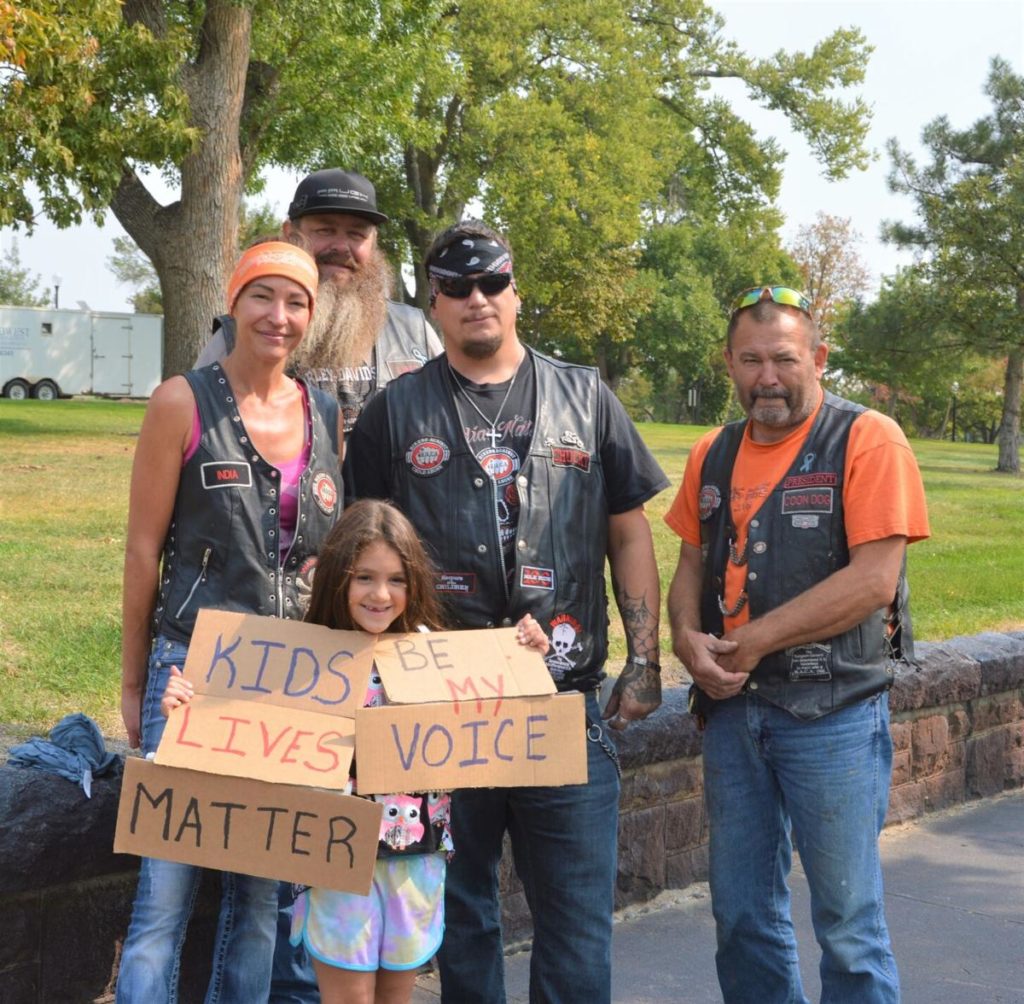 "We empower children to not be afraid of the world in which they live in," Limo, a BACA member, said.
"We provide a safer environment for Hughes County children. Period," Coon Dog, Oahe chapter president, said. "We're there for them 24/7."
Bernie Stars, an MMIW member, also came out to participate in the rally. She said she wanted to get the word out about missing indigenous women.
"I'm concerned — I'm always afraid for my daughters and granddaughters," Stars said. "I stand for those that can't… we believe in love. I believe in love, and care." 
Make sure you have subscribed to our Facebook page or Twitter to stay tuned!
Source: Capitol Journal