Spooktacular fun for everyone — benefiting survivors of child abuse — will soon available in the form of shooting zombies.
Central Texas Gellyball is hosting a Halloween-themed course where participants will fire on volunteers dressed as zombies who will chase them through the course at 420 County Road 3390 in Kempner.
Zombie Hunt will run from 6:30 to 8:30 p.m. Fridays and Saturdays from Oct. 16 to the end of the month.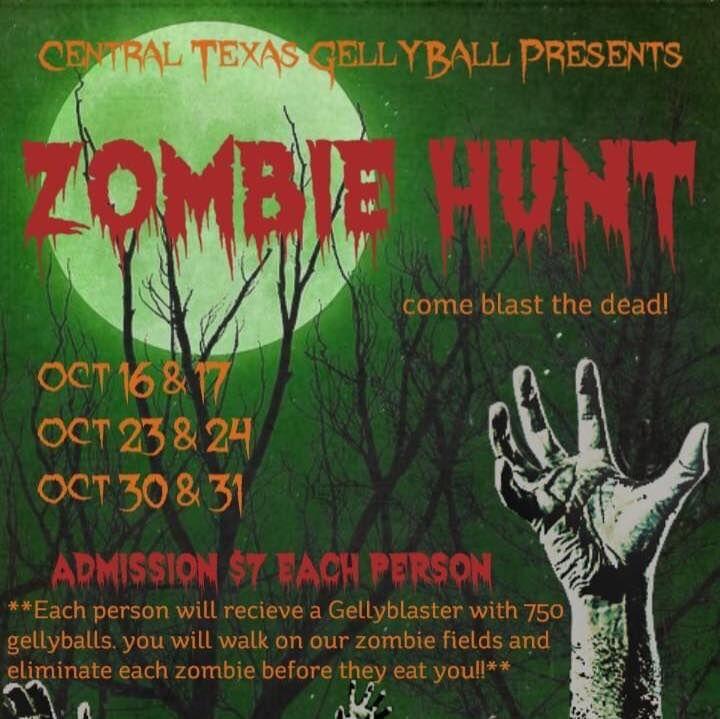 The regular price of $25 for two hours of unlimited ammo will be discounted to $7 per trip through the course.
Unlike other competitive shooting sports, Gellyball participants walk off the field without a mark on their skin or their clothes.
The ammunition is biodegradable, superabsorbent polymer beads that expand to 200 to 400 times their original size when submerged in water, and have a rubbery gel consistency.
"It comes down to how much they shoot," said Central Texas Gellyball Co-owner Michael Aker. "They can shoot up to 750 rounds at 13 rounds per second as they go through the course."
The Gellyball guns are designed to fire 13 rounds a second, and the balls travel about 30 yards with accuracy, he said.
In contrast to larger competitive shooting sports fields, the 75-by 75-foot Gellyball fields are set up for more tactical play with less running, shorter games and quicker turnover, Aker said.
Fifty percent of all proceeds will benefit the Bikers Against Child Abuse, or BACA.
"We really want to help out the city as we grow and this is a time of year when we see the greatest need for charities," Aker said. "We asked around on who would be a great fit for October, and we had a player who had been out, and she told us her story with BACA and what BACA had done for her."
Moved by her story, Aker said he reached out to BACA to learn more about how they help children in need.
"It seems like something the community needs. BACA doesn't have the same guidelines or rules as a non-federal organization — they don't have all the restraints," Aker said. "Of the charities we have decided to work with, who better than some motorcycle guys and girls to dress up like zombies. It's because of what they do for the community. We like what they do."
Plans are already in the works for future charity events in November and December, Aker said.
Aker said he has received inquiries for the event from people from San Antonio, Richardson, Kerrville, Austin and Waco.
"People have called ahead to ask if they can pre-pay," Aker said. "I was up till midnight the other night when we announced the event, and I answered probably 300 inquiries on facebook. When I woke up the next morning, there were probably 300 more people — families, groups — wanting information so they could come out."
There will be two courses, one designed for teenagers and young adults who would really like a fright, and a course with slower moving zombies for younger children and the elderly, Aker said.
"We'll do our best to accommodate anyone who comes out over the age of 5," Aker said. "We have had a really huge response from the community."
Volunteers from Bikers Against Child Abuse, Copperas Cove High School and community members have volunteered to act as zombies and to help with makeup, Aker said.
The event will be open to the public three weekends in October — Oct. 16 and 17; Oct. 23 and 24; and Oct. 30 and 31 — from 6 to 8:30 p.m. each night.
For more information, look up Central Texas Gellyball on Facebook, or call 254-278-8386.
Make sure you have subscribed to our Facebook page or Twitter to stay tuned!
Source: Killeen Daily Herald