PENN YAN — The case of a local man hoping to hitch a ride to a Native American religious ceremony, but instead busted after a high-speed chase, has been resolved.
Yates County District Attorney Todd Casella said Charles Buchanan was sentenced Tuesday in county court to six months in jail and five years of probation.
Buchanan pleaded guilty to a felony weapons charge. Casella said Buchanan got credit for time already served in jail following his January arrest, so he is now free.
The charge stems from an incident that started during the early-morning hours of Jan. 2, when Penn Yan police saw a vehicle leaving a suspected drug location in the village. When authorities tried to stop the uninspected vehicle, the driver, Bradley Zadul of Niagara Falls, led them on a high-speed chase. Penn Yan Police Chief Tom Dunham said officers pursued Zadul through the village into Benton, where he drove through a farmer's field and electric fence. The vehicle hit a barn before going into a ditch.
Dunham and Casella said Zadul, Owen and Buchanan apparently were planning to attend a Native American religious ceremony at the Cattaraugus Reservation in southwestern New York.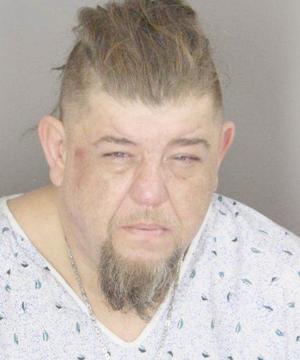 Dunham said Zadul tried to run away but was Tasered by a sheriff's deputy. He was taken into custody, as was his girlfriend, Jessica Owen, and Buchanan.
While frisking Zadul, Dunham said police found a loaded handgun in his waistband and a large knife. Police later found a sawed-off shotgun in the vehicle; the weapon's serial number had been defaced. Police impounded the vehicle and found another gun, numerous bags of marijuana seeds, more than $1,100 in cash, a baton, knives, and drug paraphernalia.
Police added that Zadul was driving under the influence of drugs.
Dunham said Zadul appeared to be a member of the Kingsmen Motorcycle Club, which federal officials have called a criminal organization engaged in such crimes as distribution of drugs, sale of weapons, and promoting prostitution. The group also has been tied to murders in western New York. Dunham said local police found a Kingsmen vest in Zadul's vehicle along with numerous Kingsmen patches.
As a convicted felon, Zadul cannot possess weapons legally.
Casella said Zadul, who has a long criminal history, pleaded guilty to a felony weapons charge recently. He is scheduled to be sentenced to nine years in prison later this month.
Owen, whom Casella said has a criminal history that includes time in a Michigan prison, was sentenced earlier this year to a year in the Yates County Jail.
Make sure you have subscribed to our Facebook page or Twitter to stay tuned!
Source: Finger Lakes Times