MOSES LAKE — Even though it's something Moses Lake residents have seen along Stratford Road every year for the last eight years, it can still be a little jarring.
That is, the sight of a member of a motorcycle club, standing on the sidewalk along Stratford Road near to Ross parking lot, in his leather vest (also called a cut, for the cut-off sleeves) covered in patches, holding up a sign asking for donations of cash or food.
"This is the eighth annual food drive," said Road Brother Twinkie, a member and unofficial spokesman of the Road Brothers Motorcycle Club. "We collect non-perishable food items and cash donations."
The food items, which are being piled up into containers in a big truck, will go to the Moses Lake Food Pantry, while the club will use the cash donations to help provide Thanksgiving dinners and Christmas presents for up to 20 families.
"The last few years we've been fortunate enough to sponsor 20 families, and we do complete Thanksgiving meals, everything, they don't have to worry about nothing; then we come back in in December and bring all the children in the household Christmas presents," Twinkie said.
As she hands two bags of groceries over to Road Brother Twinkie, Moses Lake resident Maria Martinez said she always tries to help others.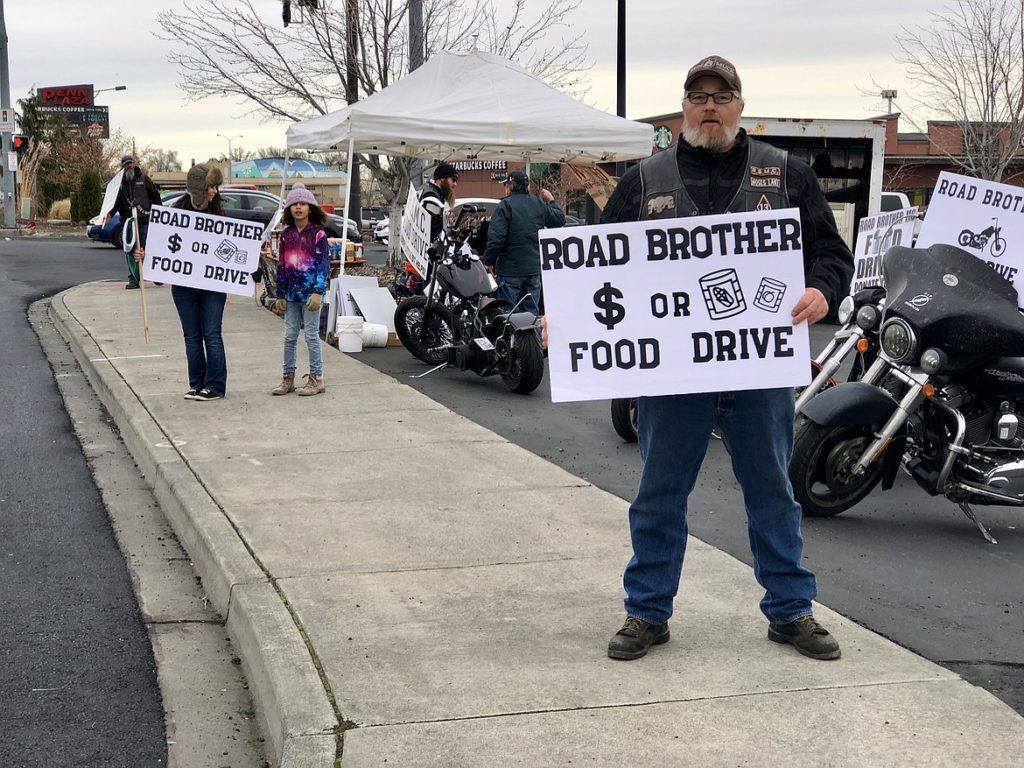 "When I see the need," she added.
The club, which draws its members from all over the Columbia Basin, began the food drive when members wanted to do something to help people who were struggling to make ends meet.
"The first year we did it, we got a great response," Twinkie said. "The second year, it got bigger, and it just keeps getting bigger and bigger."
Twinkie said that so far, even with the COVID-19 pandemic raging, it's been a good year for donations.
"We've been a little worried that with all that's gone on, it would be a little slow," he said. "But the community has been really great this year."
While motorcycle clubs have garnered a fearsome reputation, Twinkie said the Road Brothers MC is just a group of guys who "are like-minded and like to ride motorcycles."
"And we're a brotherhood. We're all friends, and we all enjoy doing what we do," he said. "We just do what we do and have fun at it."
Make sure you have subscribed to our Facebook page or Twitter to stay tuned!
Source: Columbia Basin Herald