WHITE HALL — A man was stabbed and taken to the hospital Saturday afternoon in what was described as a clash between the Hell's Angels and the Pagan's motorcycle clubs at the BFS Dairy Queen off Route 250.
Police at the scene had no information about the incident, but a 1:50 p.m. report from the Monongalia Emergency Centralized Communication Agency 911 stated there was "a fight/stabbing in Fairmont between Hells Angels Motorcycle Club and Pagan's Motorcycle Club, and that one of the Hells Angels members was being transported to Ruby Memorial Hospital."
No further information was provided in the report.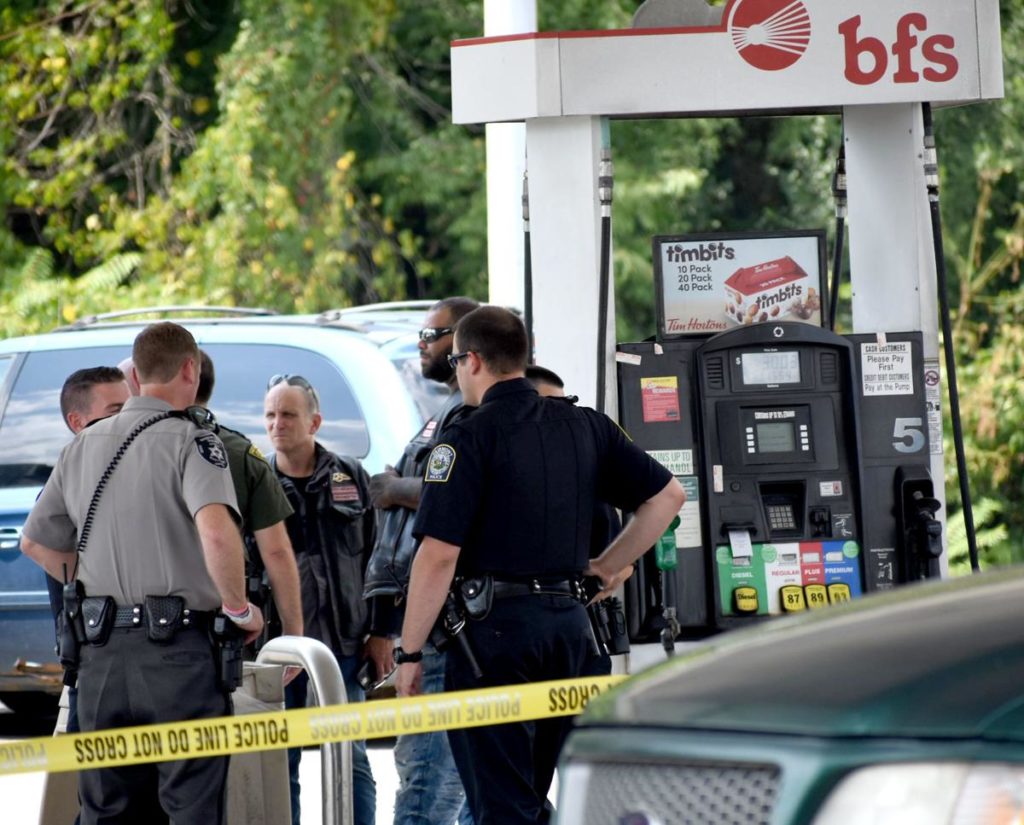 The scene was cordoned off with yellow crime scene tape as law enforcement officials began the investigation. Customers continued to pull up and get gas in their vehicles as police gathered evidence and interviewed bystanders.
A person at the scene, who wished to not be identified by name, said the Pagan's allegedly ran one member of the Hell's Angels over and hit another with a car. She said they were both men.
"They stabbed the one that they ran over," she said. She said the victim had also been struck by a baseball bat.
She said the Hell's Angels were not from the area. Their jackets reportedly had wording that they were the Hell's Angels from Rochester, N.Y.
She said there was yelling and screaming outside.
"The one that just got hit with the car, not stabbed, came in asking for towels, so I grabbed the rags that we had and I took them out," she said. "I applied them to his (the victim's) head because his head was bleeding."
She also put a towel on his wrist, where he was bleeding.
She said he was stabbed in the head and his wrist was gashed, and he was laying on the pavement by a gas pump.
The woman said she applied pressure to his head and another person put pressure on the man's wrist to stop the bleeding until EMS arrived.
She said they were told by EMS that if they hadn't helped, the man probably would have died.
White Hall Police were investigating the incident. In addition, the Marion County Sheriff's Office, the Fairmont Police Department and the West Virginia State Police were on the scene.
UPDATE (8/14/2019 11:40 a.m.):
WHITE HALL, W.Va. – The victim of the incident, Kenneth Murphy has been released from the hospital, according to the White Hall Police Department.
No further information on his condition or the investigation is being released at this time.
Make Sure You are Subscribed to our Facebook page!
Source: Times West Virginian
Source: 12WBOY