The man who authorities say yesterday (08/12/2019) engaged officers in a violent gun battle during a traffic stop off the 215 Freeway in Riverside, killing one California Highway Patrol officer and wounding two others, was identified Tuesday as 49-year-old Aaron Luther, according to a law enforcement source.
Luther, a member of the Vagos motorcycle club who died in Monday's shootout, has a lengthy criminal record dating to the 1990s across Southern California, according to public records and law enforcement sources. He served time in state prison before being released in 2007.
Authorities have not determined a motive in the shooting.
What began as a routine traffic stop Monday evening quickly turned deadly, prompting a massive response from law enforcement agencies across the region.
The situation began at 5:35 p.m. when CHP Officer Andre Moye, 34, stopped the driver of a white GMC pickup for an unknown offense at the Eastridge Avenue/Eucalyptus Avenue offramp. At some point during the traffic stop, Moye decided to impound the man's vehicle and called for a tow truck, CHP Inland Division Assistant Chief Scott Parker said at a news conference Monday night.
It was not immediately clear where Luther was heading when he was stopped. While Moye was filling out paperwork, the man got a rifle from his truck and started shooting at the officer, Parker said.
"We don't know why" the suspect shot at Moye, Riverside police spokesman Ryan Railsback said. "That is all going to be part of this lengthy investigation."
Moye returned fire, and even though he had been shot, he was able to radio for help. Three other CHP officers soon arrived, followed by three deputies from the Riverside County Sheriff's Department and at least one officer from the Riverside Police Department, authorities said.
Moye was airlifted to Riverside University Health System Medical Center and died on the way to the hospital. Another CHP officer was critically injured and a third was wounded during the gunfire. Authorities said two civilians are thought to have suffered minor injuries.
Gabriela Mendoza, 21, was chatting with her fiance while driving to class at Platt College when she got stuck in traffic near the 210 Freeway overpass. When she looked to her right, she saw a man holding a rifle advancing toward a CHP cruiser. She hung up the phone and started recording.
The 11-minute video shows CHP officers huddled behind a cruiser engaged in a gun battle.
"The way he was holding the gun and dodging bullets, it looked like he had some kind of training," Mendoza said of the gunman. "He looked like he knew what he was doing."
Eventually, the armed man disappears from view and a helicopter arrives to airlift Moye to the hospital, the video shows.
Dozens of rounds were fired over the course of the gunfight, according to law enforcement officials. The type of rifle the shooter used has not been identified. It is not clear whose gunfire killed Luther, officials said.
The freeway offramp remained closed Tuesday while authorities continued to scour the area for evidence.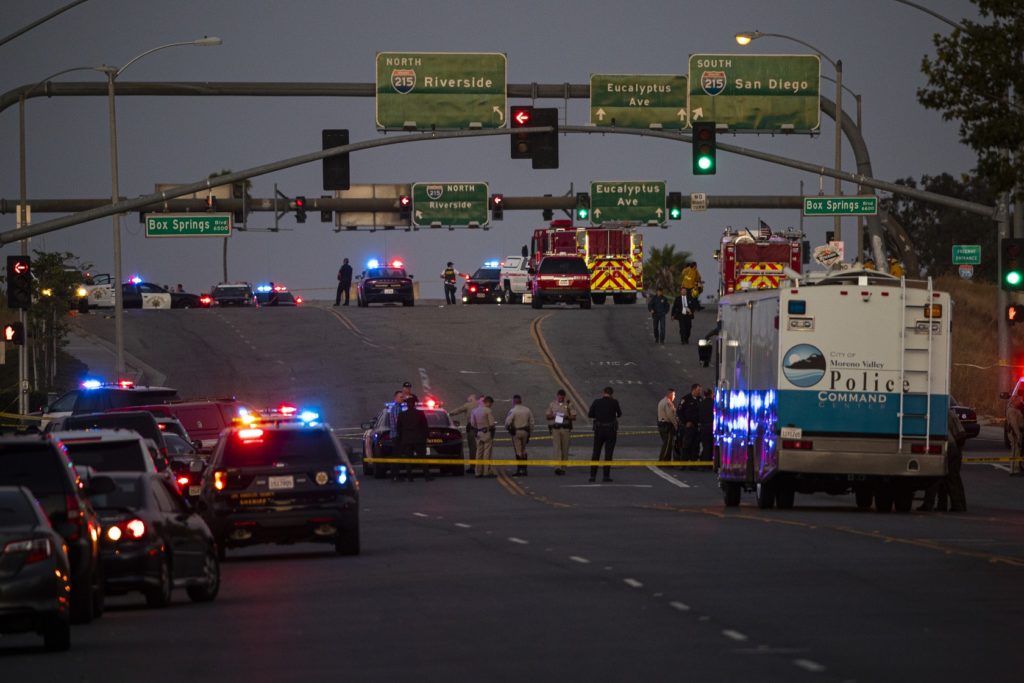 "It was a long and horrific gun battle, and resulted in a very extensive crime scene," Riverside Police Chief Sergio Diaz said at the news conference Monday night.
Moye was a CHP officer for almost three years and was assigned to the Riverside office after graduating from the CHP Academy on March 3, 2017. He previously worked as an electrician, but had dreamed of being an officer since he was a child. He is survived by his wife, Sara, his parents and his siblings.
"I am devastated by the tragedy that unfolded earlier in Riverside," CHP Commissioner Warren Stanley said in a tweet Monday. "Tonight, I mourn the loss of one of our own, CHP Officer Andre Moye, who was killed during a shootout following a traffic stop. Prayers go out to all, including the responding officers injured in the shooting."
Make Sure You are Subscribed to our Facebook page!
Source: Los Angeles Times