BY RICHARD STURGEON
President
Jemez Riders Motorcycle Group
The Jemez Riders Motorcycle Group would like to thank everyone that helped/volunteered/sponsored our benefit ride Saturday, Aug. 1 and supported our raffle to raise funds for Wyatt Taylor and his family. Such an awesome group effort!
Congratulations to Monica Maes who won the raffle for a 30-minute helicopter ride for herself and two guests which was generously donated by Classic Air Medical.
Even though the barbecue in Jemez Springs had to be canceled due to COVID-19 restrictions, the Jemez Riders are very pleased to announce that we managed to raise $8,200.
Now comes the next challenge; we would like to see if we can raise a little more money for Wyatt's ongoing medical expenses so we are challenging the community to donate to a Paypal account set up by his parents Lee and Michelle Taylor at https://www.paypal.com/paypalme/michelletaylor955?locale.x=en_US to see if we can round off what we raised to $10,000.
Special thanks to:
Los Alamos Veterans of Foreign Wars
Classic Air Medical
Piedra Blanca Brewing
Flowers By Gillian
KRSN Radio
Los Alamos Reporter
Elevated Hair Co.
Bell Larribas Tattoos
Kristy Ortega Re/Max Realty
Jemez Mountain Baptist Church
Los Carnales Motorcycle Club
Los Alamos Police Department
Fenton Pottery
Jemez Hot Springs
Thunderbird Harley Davidson
Santa Fe Harley Davidson
Jemez Riders Motorcycle Riding Group
Thank you to all the volunteers who helped set things up and made it easier for us to help out this amazing young man.
And a special thanks to Wyatt Taylor, who's unbelievable toughness and resiliency gives the rest of us inspiration.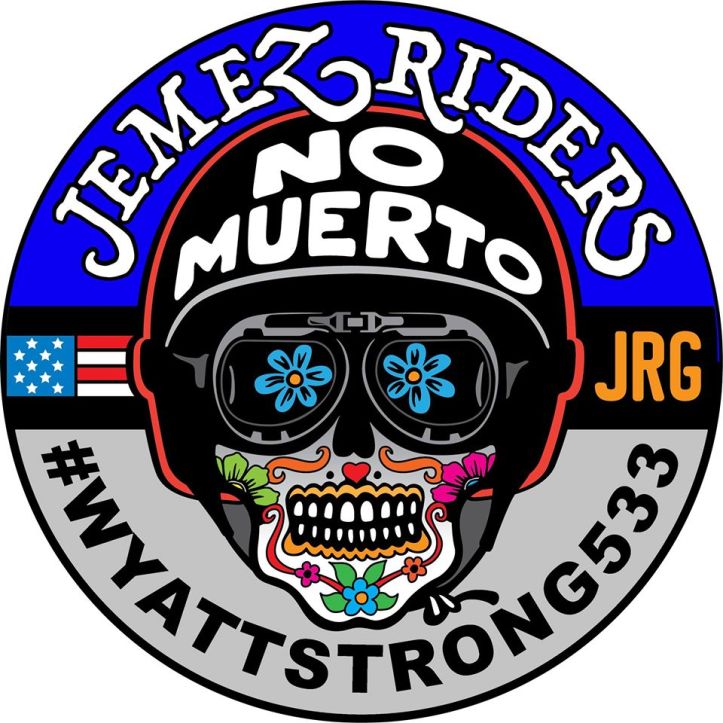 14 year old Wyatt Taylor was on his ATV heading to a remote pasture to feed his family's horses. Traveling on the side of the road, the ATV hit an unseen rock causing him to lose control of the steering. The ATV rolled over down an embankment, over a barbed wire fence, and into a ditch. Wyatt was thrown from the ATV and ended up pinned underneath it with his face forced against the tire. To make matters worse, during the crash the throttle was pinned into the engaged position resulting in the tire spinning against his face. After 30 minutes, the ATV ran out of gas, Wyatt escaped and was life flighted to UNMH.
As a result of the accident, Wyatt sustained full thickness burns down to the bone on the right side of his face from the top of his head to his jawline, with major damage to his right eye and the right side of his nose, including full thickness burns to portions of his left hand and arm. Wyatt faces years of recovery and many complicated and unique reconstructive surgeries, and therapies to restore his face, save his vision, and regain the use of his left hand.
Wyatt is an amazing young man! He always has a smile and a cheerful word for everyone he meets. His heart is as big and beautiful as the mountains he calls home. With a true servant's heart he is happiest serving his community of La Cueva, New Mexico. His dream is to one day be a full-fledge Wildland Firefighter with the United States Forest Service.
Make sure you have subscribed to our Facebook page or Twitter to stay tuned!
Source: Los Alamos Reporter